Cat-o-log
---
Break-Up! Records

PO Box 15372

Columbus OH 43215-0372
(614) 272-9008

http://www.cringe.com/break-up/

[email protected]
---
Out now!

The Pop Quiz
Go!
4-song EP (B-U! 009)
Material Issue with Who-like aspirations.

---

Dirt Bike Annie
Sitcoms and Summercamps
4-song EP (B-U! 008)

---

Pat Dull & his Media Whores
All Torn Up
"Yeah Yeah Yeah" "Robin" / "Goodbye and Goodluck" "LOVEnROCKnROLLnHOWTHEYRELATE"
ep (B-U! 007)
PAT DULL AND HIS MEDIA WHORES - comprising the pop elements of Dogrocket, Pop Rocks! and Lordburger, this stupor-group fashions itself after The Plimsouls' brand of Power Pop, and damn the torpedos!

---

The Heartdrops
"Truth Comes Around" / "Eight Days a Week"
7" (B-U! 006)
THE HEARTDROPS are an incredible trio from NYC that have, amazingly, combined the best elements of two of the greatest (and most diverse) band ever to exist... The Clash and The Beatles!! They must be heard to be believed.

---
Watershed
(B-U! 005)
WATERSHED is a terrific Columbus, OH, band with one foot in Arena Anthemland, and the other firmly in Power Popville!! Currently touring with The Insane Clown Posse (huh?), Watershed can get a sing-a-long going (think "Surrender," not "Lovin', Touchin', Squeezin'") like nobody's business... Like all worthy bands, they also worship at the alter of Cheap Trick!

---

Big Hello
Girl vs. Boy Verses
ep (B-U! 004)
BIG HELLO is a super Power Pop combo from Chicago, featuring the drummer from one of the ALL TIME GREATEST bands, The Elvis Brothers!! Big Hello cranks out the energetic, non-wimpy side of Power Pop, like Material Issue and The Beat, and their four-song "Girl vs. Boy Verses" e.p. just might change your political views!

---

Dogrocket
Pickin' up chicks!
"I Don't Wanna Be Your Boyfriend" and "Kojak"/ "Fallin' Down" and "Take You Down"
7" ep (B-U! 003)
DOGROCKET thrives of cheap beer and Cheap Trick. Their four-song "Pickin' Up Chicks!" e.p. keeps rock real in Columbus. Live, they've been known to rip Harley Davidson exhaust pipes clean in half...They believe in Husker Du and KISS, as well as the almighty Cheap Trick.

---

The Revelers
Pioneering the Space Frontier with ...
"Silver Ship" / "Meet Me at the Station" and "Little Kings of Rock 'n' Roll"
7" (B-U! 002)
THE REVELERS are an excellent Kinks-like outfit from Cleveland, Ohio, who, on a good night, can kick the crap out of any band alive. Their influences are mind-boggling, from traditional Mod stuff to Rock Steady dance, but they ALWAYS blow the roof off the joint!

---
Jerry DeCicca / Pop Rocks!
"Choir of Boys" / "After You" and "17 Pieces"
7" split single (B-U! 001)
POP ROCKS! was a Power Pop trio (trios being the best of all possible band lineups - I'm thinking of The Jam, The Nerves, and The Elvis Brothers here, not Rush or Triumph) from Columbus, Ohio. Very lo-fi (recorded in a kitchen), but all heart, baby! On the flip, Jerry DeCicca plays an acoustic weeper, accompanied by mandolin and bass (courtesy members of The Haynes Boys!).

---
On the way ...
Dylan Hicks
DYLAN HICKS AND THE GOLF-BALL SIZED BOOGIE - think a Minneapolis Mick Jagger fronting The Modern Lovers (but with a better, less child-like, sense of humor), and you've just about got it... He's got a couple singles out already, as well as a phenomenal full length CD, with another one on the way!

---
Maybe baby?
A split single featuring Columbusites LORDBURGER (Blue Cheer/Smack-style RAWK) and SWIVELARM BATTLEGRIP (swirlpop). Each band are on opposite ends of the spectrum, but they love each other, God bless 'em!

---
A reunited GREENHORN may grace Break-Up! records with another offering of their loud Hank Williams (Sr., not Jr.!) LOUDROCK. If anything here "kicks ass," it's this band!

---
Other goodies


And if yer lucky like me, you might just get pinned by the Dull man himself.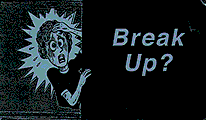 There may be more of these nifty comic pamphlets around. And even if ya can't find one, you can read it right here ...

---
Ordering!
---
All selections $3.50 check payable to Break-Up!:
Break-Up! Records
PO Box 15372
Columbus OH 43215-0372

(614) 272-9008
[email protected]
---
---
Last updated November 20, 1999. Created by Joel Treadway (

[email protected]

) for Cringe (http://www.cringe.com/) and Break-Up! Records (http://www.cringe.com/break-up/)