SHOWS | NEWS | MEMBERS | SONGS
The Velveteens began in Columbus, Ohio, as just Amy and Meagan Alwood and an acoustic guitar. During this early period, Amy wrote a body of songs that the Columbus Alive has called "deliciously raw, smoky and roughly textured." In 1998 a group of experienced local musicians recognized the potential of these two talented sisters and approached them about forming a band. The Velveteens were born.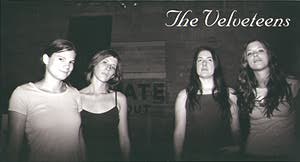 Annia, Amy, Emily and Meagan (left to right).
Having developed a solid following of their own, The Velveteens now headline weekend shows at the prime alternative clubs in Columbus. Some of the highlights of their career thus far have been playing with Acetone, Scrawl, Action Family, The Haynes Boys, Bigfoot, Pretty Mighty Mighty, The Jive Turkeys and Rob The Bank. The band also wrapped-up recording their debut CD Marveline for Derailleur Records.
The recording of Marveline also allowed The Velveteens the opportunity to solidify their lineup. First, Josh Kayser was brought in to play lead guitar. Soon after, a new rhythm section of Jon Beard on bass and Annia Light-Brown on drums was introduced. In 2000 Emily Allen joined the band as the bassist. But, as Aaron Beck of The Columbus Dispatch recognized, "Meagan and Amy Alwood are the literary and harmonious foundation of this muscular pop-rock troupe. (Amy plays guitar and sings lead. Meagan sings backup.) Fortunately, unlike the case with a lot of pleasantly loud rock 'n' roll, the Alwoods' voices are never drowned out." Looking toward the future, The Velveteens plan to play regional and national shows to support Marveline and to work on new material which takes advantage of the wide array of talents their new lineup possesses.
MEMBERS
Emily Allen: Bass
Annia Light-Brown: Drums, backing vocals
Amy Alwood: Guitar, vocals
Meagan Alwood: vocals