SHOWS | NEWS | MEMBERS | SONGS
The Velveteens in the Press
(June 16, 1999)

"Harmonizing with themselves"

Columbus hasn't produced many noteworthy rock bands fronted by women in recent years, so perhaps the emergence of The Velveteens represents a sort of redemption for the city. The band puts not one but two women out front- sisters Amy and Meagan Alwood.

The Velveteens started humbly, with the Alwoods initially performing alone. Amy's unique songwriting and the sisters' distinctive vocal harmonizing attracted attention, and a band was born. Marveline, their debut on local Derailleur Records, was released in February.

The presence of lead guitar, bass and drums doesn't detract from the band's focus: the Alwoods' singing. Their buoyant, sometimes discordant voices carry Marveline. Aided by strong production, the instrumentation - particularly the smooth, textured guitars of Amy Alwood and Josh Kayser - enhances the vocals but never competes with them. Several songs such as "Fishbreath", "Rolled Over" and "Alliteration," forego the rhythm section entirely, keeping the emphasis on the sisters.

But the band is given some room to flex its muscle, particularly on "Take Off" and the punchy "Romeo," which features engaging guitarplay and is Marveline's standout track. Amy's unconventional songwriting begs for art-rock comparisons; "Alliteration," with lyrics like "coughing like a cold cat in a crowded crock of crap" would almost certainly give away a King Crimson influence if any women listened to them.

Barely a year old and still sorting things out (the band has retooled its rhythm section since the CD's release), The Velveteens are already well beyond "up and coming." Marveline, which is available at campus-area record stores, is a promising debut.

- The Other Paper (April 15, 1999)

---

The Velveteens went on just as I arrived. By the end of their set, I was thoroughly impressed. Their fresh indie rock is highlighted by vocals shared between Amy and Meagan Alwood ... The Velveteens are one of the most talented new bands I've heard in a while.

- Columbus Alive (May 27, 1999)
---
The Velveteens in the Press
(March 17, 1999)

See the Interview with Amy Alwood of the Velveteens on Cringe.
The Velveteens
Marveline
Derailleur Records
Labeling a pop group "arty" is often seen as a slight or a backhanded compliment. As if rock or pop isn't supposed to be creative or musically interesting. But with their unique brand of smart, challenging music, "arty" is a label The Velveteens should wear loud and proud.

The Columbus quintet -- built around the core duo of singer Meagan Alwood and singer/songwriter/guitarist Amy Alwood -- derives its distinctive sound by layering the Alwoods' tight vocal harmonies over slightly bluesy, poppy instrumentations. "Rolled Over," for instance, is accented by guitarist Josh Kayser's gritty blues riffs and an ethereal acoustic guitar line, but really gets its punch from Meagan and Amy's haunting, dissonant vocal harmonies.

Creative arrangements like this are used on each of the nine tracks on Marveline. The songs are more developed and more polished than the cassette of acoustic songs the Alwoods circulated before the full band was formed, though none of the sharp attitude has been lost in the translation. While groovier, grungier songs like "Take Off" evoke the arty punk of groups like That Dog, The Velveteens' sound for the most part is wholly original. Marveline is a uniquely enjoyable journey to the edge of pop music's boundaries.
- Brian Lindamood, Columbus Alive (March 11, 1999)

---

The silky cool of [Amy and Meagan Alwoods'] harmonious voices is the main ingredient of this pretty slow-pulse rock. It's the perfect soundtrack for sultry summer days.
- Aaron Beck, The Columbus Dispatch (March 11, 1999)
---
Marveline CD Released!
(February 25, 1999)
Look for the CD in OSU campus area record stores soon. The official release show is March 12, but there should be some on hand at the February 26 show.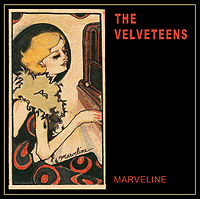 The Velveteens
Marveline
CD (Derailleur Records)
DR001CD
$9 ppd check or money order payable to "Derailleur Records":
c/o Derailleur Records
P.O. Box 10276
Columbus Ohio 43201
Also available through:
CDNow
Amazon.com
Magnolia Thunderpussy


---
CD Status
(January 15, 1999)
The Velveteens are currently awaiting completion of artwork for a full-length CD scheduled for release on Derailleur Records in early 1999.
Mastering: Jon Beard and Chris Siefert at Wavetrap Studio.
4-track acoustic recordings at Land of Sugar Studio:
Production: The Velveteens and Christian Hurd.
Engineering: Christian Hurd.
Mixing: Jon Beard and Christian Hurd.
16 track analog electric recordings at Workbook Studio:
Production: The Velveteens, Jon Chinn and Neal Schmitt.
Engineering: Jon Chinn and Neal Schmitt.