Previous Issue | Next Issue
The Compost Issue


Intro | Notes & Letters | News & Rumors | Reviews | Misc. | Ads
Music Reviews

Chaos Theory
In So Many Words ...
CD (self-released)
Chaos Theory provided a press release packet complete with biographical information and discography (just a suggestion, but dates of the releases would help). Jeff Graham's influence on the sound of this CD is undeniable, all the corners are polished, clean and tight. Very similar to projects he has participated in himself, i.e. the Karma Farmers.

When I listen to music for the first time I can't help but have that little man inside whisper to me and say "Don't you think this sounds like...ad infinitum." Comparisons do serve a purpose, they help establish a foundation to communicate the abstract non-syntactical language of music via association. When one can find no references he has not cross-listened enough, or has met with a rare form of carnate genius. Music history is imbued with subservience to this tradition. The greatest must recognize the masters, but bowing as a slave, eh.

So what does this have to do with Chaos Theory? Everything. The textures are from the past. The vocal delivery is Seattle. The harmony is mostly I-IV-V. The lyrics, she and her. All of this is fine. The little man is yelling "a box of candles and pearls, now that's nirvana." I ask him not to do this, but now you know where we are. When the album ended I looked up at my calendar to make sure.

Then the unnumbered bonus track kicked in, I knew exactly where they were as well. The Wishkah.

Mythological Rating: Sisyphus

Don't worry, the little man in my head didn't get it the first time through either. - Ed.


---
Jenny Mae
"Runaway" + 2
7" (Candy Floss Records)
One particular Sunday several years ago I was doing some not-so-routine cleaning when a rather appealing melody entered my head from nowhere it seemed - as if I had invented it myself. Where had it come from? Gradually some lyrics and the voice that accompanied the melody came to me as well, and I realized the song was "Junk" that I'd recently heard Jenny Mae's band Vibralux perform. Apparently there was more substance to Jenny Mae's music than her unwholesome affection for 60's bubble gum pop and the pimply sound of her "new wave" keyboard. This was an uneasy revelation because I had felt that her previous band, Hot Rod, was absolutely the poorest excuse for four adults to dress-up in their parents clothes and show them off on the Stache's stage.

Not that Vibralux was entirely different, but a great leap forward nonetheless. No more lounge-lizard glamour, and the song arrangements were tighter, more economical. Besides "Junk" there was at least one more memorable song, "Gem." With its Eno-worthy atmospherics and affecting account of a girl's psychological disintegration you could even forgive that unintentionally risible lyric about how "she wished she'd never given head." I loved it, though too much of the rest of their set reminded me of Belinda Carlisle (albeit with less mascara and better reading habits.)

That's why Jenny Mae's present single "Runaway" is a pleasure. Less Eighties nostalgic than we've come to expect, she seems to going for a warmer, almost jazzy sound, not unlike those two Velvet Underground songs in which Moe Tucker sings. This is most apparent on the B side with its two piano-driven cuts: a cover of Ivory Joe Hunter's "Since I Met You Baby" and Jenny Mae's original "Hershey." The latter even has a sax part. The A-side's more conventional pop song "Runaway" is a bit twee sounding, but guitars, rather than keyboards, carry the song and give it some muscle. It's a good thing because the lyrics ("I love you/Let's runaway") are insipid enough to prove that Jenny Mae is still more Belinda than Lou Reed. But to ask more of her would be to almost miss the point. If there is something inventive about Jenny Mae's music it is the way it mates the girl-centric sound of slick 80's pop to the boy-centric lower fidelity recording aesthetic of 80's hardcore as if to suggest they are opposite sides of the same coin - musically primitive forms preferred by white, middle class, suburban adolescents. I imagine one could just as easily come to the same conclusion by sifting through the combined record collections of Pat Dull and the New Bomb Turks, but then I suspect you might have to actually listen to all those Go-Go's records, and I'd rather just listen to Jenny Mae.
---
The Kleevers
The Kleevers do that Tool, Black Sabbath heavy/metal/sludge groove thing. The vocalist has respectable singing ability. The band did a perty good note-for-note version of Black Sabbath's "Warpigs" that I wouldn't mind hearing again - the guitarist's one flub was quite forgivable given the length of the tune and the fact that he played the riff correctly several time times before and after. The big step they need to take is toward original tunes. Then, either as a unit or apart, I could see them becoming more established locally. Of course, I should see these guys more than once before making any strong statements.
---

Lollipop Factory
Objective Man
7" (Moebius Palindrome)
Before the "love me, love me, love me's" of Abba, err the Cardigans, filled the airwaves (and my voice mail ) our local disciples of Freddy Mercury and Queen were covering the real thing. And if the Cardigans smooth "Abbasqueness" can work with Sabbath's "Iron Man," it certainly follows that a Queened group such as Lollipop Factory can cover "Dancing Queen." Hmm, it might even be LF's jab at all the critical comparisons to Queen and the 70's... Then again, one has to wonder if this could be Lollipop's year with all the 70's throw backs on the charts (The Cardigans, No Doubt, that Grease medley, and Star Wars?).

Anyway, the Factory model of "DQ" is a bit heavy on the guitars and their ain't no females in the work house, but the harmonizing still works - if ya like Abba.

"Bouncing Ball (Slight Return)" is actually an unplugged (one acoustic guitar and layered vocals) verse or two reprise of a cut from their Soon CD. Now, maybe it's me old needle and turntable, but it has a bit of an old staticy victrola timbre to it. I could also totally believe that was Pop foreman David Tweed's intention.

The title cut, "Objective Man", is a bit grittier than some of their tunes. That could be the vinyl speaking to me again, though. There's still lots of arena art rock textured guitar and barbershop quartet harmonizing. The lighter parts have that "Waterloo Sunset" rhythmic and melodic giddiness. Unfortunately, this title track comes off as the least interesting, entertaining or individual when grouped with the two cuts on side B. Shave a couple minutes off the "Man".and ya might have nice 3 minute pop song. Until then I think I might stick to the two tunes on the other side ...


---
Medusa
These rock suburbanerds do the slightly metal side of Iggy Pop and such. To me that particular Iggy's iffy on it's own account, but I think they're pulling it off Okay.
---

Various Artists
Money Talks ... and Sex Sells
CD (Kathode Ray Music)
Compilations can be quite an exercise to review - especially ones containing bands and tunes you are not familiar with in any way. Actually, it took several weeks to take the initiative to do this one in its "entirety." As for the way of dealing with this compilation, by and large it is through cheap, easy and sleazy track by track and band by band comparisons.

The Betmars "Better Let You Know": Kinda tight, heavy alternative reminiscent of Ohioans the Frans with whiny punk vocals a la Ron House.

Marcy Playground "Sex and Candy": Sexy male vocals with slight whispers and falsettos in smooth alternative blues/groove vein not unlike our own Howlin' Maggie with a bit of Verve Pipe and Greenhorn. On the big scene, think of Dave Matthews, Seal, a little Kim Mitchell ("Go For Soda") and just a tad of Nirvana unplugged.

Hoover's G-String "Sick of Trying": Did Joe Jackson or Elvis Costello drop the keyboards and take up heavier guitars?

Floyd's Ordeal "Say What You Will": Alternative metal hard rock possibly in the realm of Metallica meets the Chili Peppers minus the false funk - or any funk at all for that matter. Here, that's a good thing - it's a perty good tune.

Get ready for a few electronic offerings.

Six Sigma "Maquiladora": One of those electronic pieces with (sampled?) dialog throughout that makes one think of Fortran 5 or the Shamen.

Bionik Pop "Mad Heaven (Divine Dance Mix)": This is more techno sounding ... or mechanical than Six Sigma. Have you ever been Yello Mode? The almost Clash, er, Big Audio Dynamite vocals and music with slightly dated solos and sounds bring to mind M, er "Pop Music" or Missing Person's "Words". However, the kids will probably be dancing.

Dress Code "Watch Me Dance": With beat and bass heavy (read: muddy) electronics, buried (Read: unintelligible) rap in the background and some samples of the title phrase, it all comes off kinda lack luster (Read: boring).

TYA "The Grid": Beginning with air raid sirens, as you might expect this electronic Goth tune is dark and ominous. It reminds me of something, but I don't recall what right now.

SpEnt fiXer "Octopus Motor": This coulda been me in High School - ZZ Top guitar and vocals trying to do deep, dark music in the 80's, Psychedelic Furs guitar solo intact. It reminds me a bit of our own G-Spot Tornadoes. The "gobble, gobble, gobble" at the end really throws me, though.

Tagyerit "Adam & Eve": Tag-yer -it's quirky pop a la Jane Siberry and Laurie Anderson with a little reggae stylings is kinda refreshing. I couldn't help but mention their label is Wabbit Wecords.

Now we're entering hard rock/metal guitar head territory common to Van Halen and its ancestors ...

Toddio "Plop a Trailer Down": Deconstructed David Lee Roth era Van Halen with a bit of those Beastie Boys'(and Ozzy?) overtones.

II Big "In it for Lust": So if Billy Idol and Steve Stevens covered Aerosmith covering "Train Kept-a-Rollin' ", it might sound too big.
I think I heard a little paraphrase of Pink Floyd's "Young Lust" guitar melody along with a little Triumph lead guitar doublings.

Syrenade "Changes": Their busy bass and off beat rhythms bring to mind Primus.

Raw Novembre "Strange Creature": A quick glance at the track info showed they are from Ireland, so that kinda explained the heavy metal Grammy winning era Jethro Tull similarities. Likewise, there's some Celtic influence in the instrumental parts. The vocals are delivered a bit deliberately - kinda Frank Sinatra/spoken punk, but still with that Ian A. tone and phrasing. But it still doesn't work for me.

Desar "The Bride": David Bowie references abound, though Iggy and Icehouse come to mind too. Imagine electronic Goth Bowie heavy on the keyboards/synths and electronic drums. It got me wondering, is Bowie's middle name Desar? Have NIN and Bowie actually collaborated further since the tour stint together?

Cute "Sally": The more traditional indie two chord garage pop, sound Coolumbusites are so familiar with is evidenced in this dirge. Rough, Neil Youngish and Pavementy all at the same time. Hey, there's even a little Velvety noise break. Did I mention they're from Japan?

Hoover's G-String "Overrated": See Hoover's "Sick of Trying" snippet above and add a little Yard Birds "For Your Love" backing vocals and guitar soloing.

Dead Family "Dead Family": Ok, ya can probably almost guess this one. It's pop punk coming close to that 50's, rockabilly, monster rock thing, complete with "Dead, dead, dead" chants. It could be a poppier version of our Gut Piston.

II Big "Make it Work Out"?: With this second song, the II take a stab at the hard rock acoustic guitar ballad. Bon Jovi and the Allman Brothers may have helped on this one. Oh, the title wasn't listed so I just took a stab at it.

Dress Code "Turn Up the Bass (Turn It Up)"?: Another beat heavy tune from these guys. It's a little more techno dance oriented this time. There is no written title for this cut, so I am assuming the repeated phrase is the title.

Well, there you have it. Hmm, I guess that wasn't so bad after all. So you know, Kathode Ray Music is a new nonprofit music promotion organization in town. Compilations of bands from around the world is one of their specialties. Hopefully you picked up on Kathode's attitude concerning Indie music as being more objective than a so-called Indie sound: Indie bands are simply rock/alternative bands that function independent of large corporate labels and companies. Imagine that! Indie really has little to do with a sound, but a lot to do with a circumstance, an ethic or an attitude. Makes sense to me.
---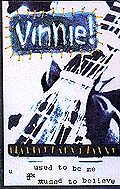 Vinnie
Demo
CS (Jenrazor)
This tape presents a fairly polished but still awkward version of Vinnie. Sounding a bit like a hoarse Iggy fronting Velvet garage Doors, the basic sound of the band is still there with the expected benefits of a recording/studio project. The bass flange, poppiness and tintiness still bothers me a bit. The guitars don't bother me as much. With a few more years of whiskey, Rodney could have that low, hoarseness down to a natural voice. (As it turns out, Rodney is indeed a Lou Reed fan.) Some of the live energy, charm and on-the-spot honesty comes through; however, that on-the-spot stuff is a mixed blessing for a recording.

"Mr. Potatohed" falls into an angry 50's, almost Doo Wop, caste. "Nancy Whiskey" turns the Irish drinking tune into a garage-y late 50's-style rocker a la Buddy Holly or "I Fought the Law." I'm not saying it works but there it is. Actually, most of the tunes nod to late 50's and 60's rock ... but then I could say that about almost anything rock.




---
Zak Wylde
Man, that Zak Wylde rocked ass the other night. He even played "Mama, I'm comin' home." Who says Stache's sucks? ha ha.

- j0hn

Hope ya don't mind that we stuck that in as a review, j0hn - we just had ta. - Ed.