Previous Issue | Next Issue
Dog Days


Intro | Notes & News | The Lowdown | Tips | Releases | Reviews | Features | Ads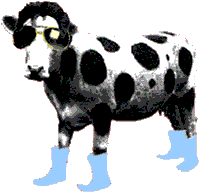 The
Weekly
Lowdown
---
Wanna tell me what's going on with your life? Well, you can, if you want your band and/or musical endeavors written about here. There are three easy ways to get in contact with me:
Pat Dull / 3935 Farm Brook Lane / Columbus OH 43204-5003 / (614) 272-9008 / [email protected]

---
NOTE: All the email addresses for Cringe appear to be functioning properly again. Email sent to

[email protected]

or

[email protected]

from August 9 through September 1, 1998 was probably lost. If you haven't received a reply or just wanna be safe, please feel free to resend any messages sent to those addresses in that time period. Sorry for any inconvenience.
---



Tuesday, September 29, 1998

While the cat's away, the mice (uh, no pun originally intended) will play. I hope no one minds if I take over Pat's Lowdown while he's honeymooning. This week's first lesson: If ya don't have anything nice to say, write it. At least then people can actively choose not ta read it.

JOHNNY GONE
I guess the big news of the week would be that John Petric resigned from his music critic position at the Other Paper. Petric was never one to be particularly polite, peaceful or politically correct. That being said, don't expect me to be so respectful towards him either. Those of you who have followed Cringe over the years should already realize Petric and I are far from friends. But rather than take advantage of Pat's absence and muck up the Weekly Lowdown further, you can read and respond to my ranting and rambling on the Cringe message board.

FRIDAY NIGHT COFFEE HOUSE
We were sent the schedule for the Friday Night Coffee House at the Clintonville Community Market (CCM), 200 Crestview Rd. (N.W. corner of Calumet and Crestview).
10/2    Pat Coffey
10/9    Liz Hecker
10/16   Poetry Nite
10/23   Celtic Session
10/30   Beckie & Sid
11/6    Knot Fibb'n
11/13   Joy Dickerson
11/20   Poetry Nite
11/27   Celtic Session
12/4    Aisling (pronounced "ashling")
12/11   Wild Carrot (from Cincinnati)
12/18   Poetry Nite

Tentatively, the first two Fridays of each month are folk music. The third Friday is poetry night. The forth Friday is a Celtic music jam session. If there is a fifth Friday, it's back to folk. All performances begin at 9PM. Phone the CCM at 261-FOOD for details.

DOOM INDEED
I finally wandered to the Legion of Doom (1579 Indianola Ave. / http://members.tripod.com/~thelegionofdoom/) for Chicago's Sweep the Leg Johnny and also caught their fellow Windy City friends, Lustre King. It was a hot humid night to begin with. Spending it in a crowded unventilated laundry room basement just added to the sweat. At least there wasn't the nasty smell of beer and cigarettes to deal with too. (In case ya didn't know, the Legion is a smoke, drug, alcohol and meat free punk house.) All in all, perty good shows by both bands though the vocals were a bit hard ta hear. But then again neither band had that many vocals anyway. I think I'll go back again when it's cooler -- temperature-wise that is. Maybe they'll even let me do my laundry ...

OPENING WEEK
Nothing particularly newsworthy to mention here. I mean if ya care about these things, you probably already know ... Last Wednesday was the first day of OSU's fall quarter -- the beginning of a new academic year, the return of several thousand students and influx of thousands of new students. Sunday also marked the long awaited and hyped grand reopening of the Southern Theatre downtown.

- Joel



---



Tuesday, September 22, 1998

RADIO STARS
Well, surprise, surprise: there's nothing of any real local interest being played on the local Ohio State University (KBUX) radio station that I can see -- and its been that way for weeks on end! Hey, how about with the new school year, lets let the kids hear what their local bands sound like? How about the excellent new Tim Easton CD, Special 20? Or the Wolfgang Parker? Does the station even have a Local Hour segment? Well, if not, for shame! Anyway, for what its worth, here's the top five on KBUX's playlist this week: #1 UNKLE, Psyence Fiction (Mo Wax/London), #2 A Minor Forest, Independence (Thrill Jockey), #3 Elliot Smith, XO (Dreamworks), #4 Sloan, Navy City Blues (Murder), #5 Sunny Day Real Estate, Radio Sampler 1993-98 (Sub Pop). Long live rock.

REALLY BIG SHOWS AT BERNIE'S
Hey, this Tuesday, September 22, The Distillery's got Poundsign (from San Francisco), with Aislers Set and Tiara. Wednesday, September 23, Bernie's plays host to Les Batteries (from NYC, and featuring members of Run On), as well as Them Wranch and Koo Stark. On Thursday, September 24, theres RCA Recording artists Babe The Blue Ox (from New York), with Pretty Mighty Mighty and Orchestraville. Friday, September 25, it's Anyway Records night with Jenny Mae and The Ass Ponys. Saturday, September 26, you'll find Jennyanykind (Elektra & No. 6 Records) with Moviola and DJ Riko. Sunday, September 27 there's Spiderfighter and Midway.

Welp, that's it for now! I'm getting married on Saturday, so I'll be gone for the next couple of weeks. I'm sure Joel will take care of ya!

- pat dull


FREE PIZZA AND DRINK
With the beginning of a new school year, things are bound to get hectic and active around here. If you're interested in helping out with Cringe in some way, contact us anyway ya can.

Cringe
133 W. 6th Ave.
Columbus OH 43201
(614) 421-7589


[email protected]


http://www.cringe.com/

To make it easy, we'll be meeting next Tuesday, September 29, 1998 (happy birthday mom!) at 7pm at Donatos's on the OSU campus (2084 N. High St. - 294-5371). We'll be the ones throwing around local recordings. These are generally very informal and open meetings. Free pizza and drink on Cringe.

MORE ENTHUSIASM
As if recent mentions in Columbus Alive and Web Observer weren't enough, Cringe was recently featured in InnerArt cyberzine. InnerArt is a local arts collective and resource. You'll find the article in Harry Farkas' Weirdology Network column in the Artbits section of the September issue.

Any home recording enthusiasts out there may wanna check out Audio's Home Recording Studio. Aside from covering home recording and independent music, the site includes links to manufacturers' sites, magazines, books and other resources. Have fun.

- Joel



---



Tuesday, September 15, 1998

DREAMLAND FESTIVAL
This weekend (Friday and Saturday, September 18-19, 1998) kicks off the 2nd annual Dreamland Festival -- 2 days of music in the woods, featuring a Rave and 6 Midwestern grassroots rock bands. Gates open at 5:00 pm on Friday, and the party starts at 11:00 pm Friday night with a Rave/DJ House Party. Bands start on Saturday at 2:00 pm. What bands, you ask? Well, for starters, there's The Mullins Band, Uncle Sam's Dream Machine, The Shantee, Grasshopper Pie, Heifer, Color Wheel, and D.A.T Productions. The cost is $25 for the entire weekend (includes camping). $15 if you show up Saturday morning and camp that night. This all takes place at Tappan Lake at Hideaway in the Hills in northeast Ohio. Directions from Columbus: 70E to 77N, get off at the New Philadelphia exit. Take 250 east, follow the signs closely until you reach the Tappan Lake area. Hideaway in the Hills is on Beaver Dam Rd/ West Shore Cottages. Take Beaver Dam Rd. about a half a mile until you come to a dangerous intersection sign. Slow down and take an immediate right. More Info?:

[email protected]

, or http://www.usdm.com/

EMPERORS OF BAD LUCK
Well, the busy-bodies in the Emperors Of Bad Luck took a little time off recently to replace their original guitarist. The "new guy" is 26 year old Jack Boulant, from Worthington. As for the CD plans, looks like things are going to be pushed back a few months. Andy Harrison (of Howlin' Maggie) is still producing and engineering all of the recordings, and they'll most likely have something out by the end of the year. The band was recently booked as the opener for Ruth Ruth at the Newport Music Hall this Sunday September 20.

REALLY BIG SHOWS
Hey, this Wednesday, September 16, Bernie's plays host to Joint Project and, from Detroit, 60 Second Crush. On Friday, September 18, it's Mitch Mitchell's Terrifying Experience (Yes, that Mitch Mitchell - from GBV), The Spiveys (from Chicago), Heeva Hava (from Cincinnati), as well as our own Bob City. Saturday, September 19 finds Let's Crash (from Dayton) featuring Jeremy from Lazy, Rob The Bank (featuring some of the Gem City's finest) w/Lem Darro. Sunday, September 20 there's the In The Red Records R&B-laced R&R of Andre Williams and the Countdowns (from Detroit) with very special surprise guest New Bomb Turks!

Welp, that's it for now! See ya next week!

- pat dull



---



Tuesday, September 8, 1998

REALLY BIG SHOWS
Hey, this Wednesday, September 9, Bernie's plays host to Roadrunner Records' Karma To Burn (from Morgantown, West Virginia) and The Staggers. Thursday, September 10, gives us The Sean Woosley Band (featuring Sean Woosley from Jenny Mae's Band and former member of the Hangboxers), w/Barry Hensley (formerly of Big Back 40) & Jason Sturgis and the Sovines. On Friday, September 11, it's a CD Release Party for My Uncle Wayne with In The Red Records' Cheater Slicks and Them Wranch. Saturday, September 12, the early show - 8PM has Pinetop Seven (From Chicago, IL) w/Barry Hensley (formerly of Big Back 40) & Jason Sturgis; The Late Show - 11PM has late performance by The White Outs and Our Flesh Party. Sunday, September 13 packs an Open Stage Spotlight on upcoming talents as well as a jam session by a pack of Columbus Vets.

Welp, that's it for now! See ya next week!

- pat dull


RELEASE PLUS
To meet requests and as a preview of their nearly complete CD, Fenster just released a two song tape. They also brought up the long standing rumor that Chelsie's is close to closing. I really should to find out what's up with that.

This week The Mulchmen are releasing a cassette featuring 10 tracks of surf and instrumental rock greats the band has performed over the years. Notably, the proceeds from the Covered With Mulch tape sales go to benefit The Tim Taylor Memorial Fund. This fund was established last year in the name of the their late, great, friend and fellow Daytonian, Tim Taylor of Brainiac, who was killed tragically in an auto accident in May of last year. For further information on The Tim Taylor Memorial Fund, this new release or how to order your copy, stop in at the Big Beef web site at www.bigbeef.com, or email them at [email protected].

The Evolution Control Committee has been perty busy of late. ECC's new "Rocked by Rape" 7" single on Eerie Materials' has led to write-ups in CMJ, New York Press and SPIN Magazine. And a few weeks ago Mark Gunderson of The ECC was interviewed for the Sample Sunday on the Radiosonic show on CBC (Canada, but also broadcasts over the net). The interview was broadcast Sunday, September 6, but maybe there's an online archive??? In any case, check http://pobox.com/~ecc for more ECC related info, music, MP3s, ordering, tour plans and more.

BEHIND THE SCENES
There were several new reviews posted to the current issue over the long weekend. Have a look see. The deadline for the current issue is October 1. Submit away! Also, we'll soon be having another Cringe staff/recruitment meeting. Have fun.

- Joel



---



Tuesday, September 1, 1998

REALLY BIG SHOWS LAST WEEK
Okay, at the risk of embarrassing myself, I'll have you know that I went to both the Rick Springfield and The Knack shows this past weekend. And it was great!

Mekka was packed to the gills with honeys last Saturday, stretching off into the horizon as far as the eye could see. Rick is still a cutie, and he played over an hour's worth of well-remembered songs. I had forgotten how many hits this guy has had over the years: "An Affair of the Heart." "Love Somebody." "Don't Talk to Strangers." "Jessie's Girl." "I've Done Everything For You." "Love is Alright Tonight." "Human Touch." And many more. Rick was obviously having fun, and the crowd was, too.

The Agora in Cleveland was host to The Knack last Sunday, and the crowd was rather thin. It was a real treat, however, to see one of my favorite high school-era bands in the flesh. I was about one foot away from lead singer Doug Fieger himself! The Knack were obviously there to impress upon the crowd that they have a pretty nifty new pop album out (called Zoom, on Rhino Records), and a good half of the tunes played that night were culled from it, starting off with the first four straight from the CD. As far as I can remember, the band played only a handful from 1979's Get the Knack smash ("She's So Selfish," "Good Girls Don't," and of course "My Sharona), while only one each were aired from 1980's ...but the little girls understand and 1981's Round Trip ("Baby Talks Dirty" and "Wait and See," respectively). The much later Serious Fun was ignored completely. It was a fun, energetic show, and the band cheerfully signed autographs and spoke with fans afterwards into the night.

F??BOMB
Chad Painter, of the mysteriously monikered F**bomb, informed Cringe that they are working on a new album that hopefully will be out by Christmas time this year.

Welp, that's it for now! See ya next week!

- pat dull


OFF THE BANDWAGON
The rumors have been floating around for awhile and it looks like they've finally come true. Heifer has called it quits. Some of the members may continue on together in one band or another and we'll probably continue to see a couple more joining Bigfoot on occasion if not more regularly.

This one's a case of someone ya see regularly saying, "I thought ya already knew ..." Several weeks ago Andy turned in his drum sticks (Moody Jackson) and his keyboards (Mudflap Girls -- from Venus, in case ya didn't know). I'm not sure what the status of the bands is.

AUGUST SUMMER SWELTER
August ended up being perty Hectic month for me and Cringe -- good and bad.

The good news first ... Cringe was second runner-up for Best Local Web Site in Columbus Alive's reader's poll. ColumbusPages -- another big supporter and fan of Cringe -- came in first. They also host Columbus Alive's web site. Stauf's was the second runner-up. After having a couple looks at their site I took another look at the polling info. Sure enough, Stauf's, along with several other coffee shops, were the polling places. Yes, keep in mind the irony that Cringe was actually started as a somewhat cynical and sarcastic response to such polls.

And that's not all the free good press. Web Observer had more flattering things to say about Cringe in it's September issue.

As for site stats, over the last week Cringe has indeed exceeded an average of over 600 pages served per day. I won't be at all surprised if we break 700 next week!

As for the bad news... Something went haywire with two of the Cringe email addresses. The messages seem to be going off to Limbo Limbo Land. If you've emailed [email protected] or [email protected] August 9, 1998 or later, you may want to resend your message to [email protected]. Sorry for any inconvenience.

The storms last week also did their dirty deeds to my computer; and it's not gonna be dirt cheap. Don't worry, the withdrawal symptoms of being without my home computer for a week are nothing a few good bands and a portable from work couldn't fix. On the good side, this seemed like a sign to order my new computer a week or two earlier than planned. It should arrive any day now.

- Joel

Tuesday, August 25, 1998

RADIO FLAGGING
Once again, Ohio State University's KBUX needs an injection of local music to spice up their alter-native playlist. Basically, it's the same local crowd as last week, but with less airtime: Bob Pollard's Waved Out (Matador) fell to #13, and Tiara dropped to the #11 slot with their Calling The Whales (Hub City) CD. The rest of the list, as far as I can tell, has no local music at all. C'mon bands, get your music to KBUX: it's in the Ohio Union at 1739 N. High Street, Suite 15-S, Columbus, OH 43210, (614) 292-0436,

[email protected]

, or http://kbux.ohio-state.edu/

SATURDAY NIGHT LIVE
Anybody remember when the Saturday Night Live show was really funny? Well, if you do, then you may be familiar with the writings of Michael O'Donoghue. He was a founding writer of both Saturday Night Live and the National Lampoon magazine back in the early 1970's. In fact, he appeared on SNL somewhat regularly, most frequently in skits called Mr. Mike's Least Loved Bedtime tales, where he would read a typical fairy tale, only to conclude them with horrific endings like The Little Train Who Couldn't (because of a heart attack straining to get up the hill) or Briar Rabbit Gets Eaten by Briar Bear and Briar Fox. Anywho, someone has finally written a biography on the man, and it's probably the best biography I've ever read. It's call Mr. Mike, and it's filled with the man's often brilliant, always vicious, humor. It's brand new, so you'll probably have to spend top dollar to buy it. Maybe the library has it??

REALLY BIG SHOWS THIS WEEK
The big news this week, at least in my little, pathetic world, is that Aussie popper/soap opera star Rick Springfield will be hitting the Mekka stage in Columbus on Saturday, August 29, and then the very next night, at the Agora in Cleveland, the legendary Knack will be seen supporting their excellent new album Zoom. Be there or beware!

In other rock'n'roll news, The Distillery has another week of cool shows lined up for Columbus to consume, kicking off tonight (Tuesday, August 25) with Diesel Boy, plus Makeshift Conquest, Betaroric, and The Last Of The Juanitas. Wednesday, August 26 features Bubba Ho-Tep. On Thursday, August 27, it's an ARA Benefit Concert with Jive Turkeys, Our Flesh Party, and more! Friday, August 28 it's Warner Bros. Recording artists Red Telephone with Fulbone! Saturday, August 29 has Action Family, Jive Turkeys, and the Velveteens. Monday, August 31 it's the folk styling of Tim Easton and friends! Try to make it out for a show or two!

Welp, that's it for now! See ya next week!

- pat dull


OVER 500 SERVED DAILY!
I've been keeping a closer eye on the Cringe site log files for the last week or two. About a week ago we reached a bit of a milestone: 500 pages served in a single day. We've been averaging over 500 pages a day since and it's quickly approaching 600. To help honor the occasion, we recently became a bit more extroverted with the Site of the Week section. Now we actually let sites know they've been selected and offer an optional Cringe Site of the Week banner and link for their site. I'm wondering what to expect once school -- particularly OSU -- is back in session.

IN THE STUDIO AND ON THE LABEL
I visited Workbook Studio a few days ago. Jon and Neal (Workbook and Pretty Mighty Mighty) are quitting their real jobs to focus more on running the studio. The Velveteens, now with Josh from the Jive Turkeys on lead guitar, were finishing up their first studio session there. They're recording what will probably be a CD/EP for a new local label, Derailleur. Derailleur was started by an old friend or two of yers truly with the Velveteens as its first effort. I'm twisting a few arms to get a report based on this whole process of "starting a label from scratch" to "distributing a recording."

What's an Anyway fest? It's a weekend of music put together by our town's biggest and best known label, Anyway Records. From looking at the roster for this weekend's fest at Little Brothers, all but maybe one of the bands actually have releases on Anyway.

- Joel



---



Tuesday, August 18, 1998

COLUMBUS COMPOSIUM
Patrick Corbett has written to Cringe regarding an as-yet-unnamed "Columbus Composium." Although I'm not sure I know what a "composium" is, it probably revolves around the idea of musicians and music composers getting together to talk turkey about music, write music, and maybe actually play music. A first meeting was held on Thursday, August 13, and the group currently has 15 members. If you're interested, contact Patrick at (614) 848-7715 or

[email protected]

.

RADIO DINNER
Not much going on locally vis a vis Columbus college radio these days. Bob Pollard's Waved Out (Matador) fell to #6 on KBUX's radio playlist, with Tiara holding fast to the #8 slot with their Calling The Whales (Hub City) CD. The rest of the list, as far as I can tell, has no local music at all. C'mon bands, get your music to KBUX: it's in the Ohio Union at 1739 N. High Street, Suite 15-S, Columbus, OH 43210, (614) 292-0436, [email protected], or http://kbux.ohio-state.edu/

BREAKTHROUGH CONNECTIONS
Dave, Rodger and Joe from the Breakthrough Connections have a site on the web, (http://www.brkthrough.com), and they plan on working with Cringe in the future -- trading and sharing information, reviews and other resources. Their focus seems to be simply creating a forum so that people can access cool local music, and they've already got a compilation CD completed. They're interested in creating pages to promote all sorts of bands, so give them a call at (614) 470-4745, or e-mail Rock'n'roll Dave at [email protected].

REALLY BIG SHOWS THIS WEEK
Another rock'n'roll week for The Distillery, kicking off tonight (Tuesday, August 18) with The Kiss Offs (from Atlanta, Ga.), plus Tiara and Lem Darro. Wednesday, August 19 features Spiderfighter, I Have Mass, and Knucklehead. On Thursday, August 20, it's Salthorse with Superstar Rookie and Girl Drink Drunk. Friday, August 21 is bartender Jim Stone's Birthday Bash, with the rock'n'roll shimmy of The Woggles (from Georgia), with Flipping Hades and possibly the last show ever for The White Outs!!! Saturday, August 22 has Flying Bomb Recording artists Chinese Millionaires from Toronto, with Deadly Snakes and Spaceshits. Sunday, August 23 it's the space pop of Velour 100 and The Autumns (from Los Angeles, CA), with Lucwarm warming up.

Welp, that's it for now! See ya next week!

- pat dull


HOP ON THE BUS, GUS
Gus, longtime Stache's/Little Brothers employee, is giving up the gig after 6-years. Over the years he's helped promote local and regional bands such as Pica Huss, The Method, Mary Adam 12 and his own band, Granny's Hole. He also put together the Columbus Underground Music (CUM) Fests of a few years ago. This is not to mention his work with the Eardrop Productions releases, Community Fest, Stache's/Little Brothers, getting Mary Adam 12 to play my cousin's wedding (thanks Gus!) and a ton of other things I'm probably not even aware of. You can read his admittedly jaded parting message on the Cringe message board.

- Joel



---



Tuesday, August 11, 1998

RADIO DAYS
Bob Pollard's Waved Out (Matador) is still Numero Uno on Columbus' KBUX radio playlist, with Violent Green's Hangovers In The Ancient World following closely at #2, and Liz Phair at #3 with Whitechocolatespacegg (also on Matador). Local heroes Tiara fall down one notch to #8 with their Calling The Whales (Hub City) CD. Not much else of local interest on the old playlist... Whose fault is that? I dunno. I do know that the New Bomb Turks's latest stink-fest (At Rope's End, on Epitaph) finally fell from the charts after quite a lengthy run.

GOOD TO PLAY SOLO
Jason Niemet (previously of Vinnie & currently of Fifty Fifty) is working on a solo tape and hopes to get it out sometime this month... It will be mostly instrumental guitars, maybe with some vocals. The tape will be called Lusty Serine and done on a Tascam 4 track, and so will be of somewhat "ok quality," according to Jason. Other artists out there want their tapes/CDs reviewed? Send 'em to Cringe, okay?


REALLY BIG SHOWS THIS WEEK
Tonight (Tuesday, August 11, 1998), Little Brothers has Edith Frost and Jenny Mae gracing the stage, while Bernie's Distillery is showcasing The Spills (Stiff Pole Records) from Vancouver, The Spitfires (Sonic Swirl Records), and Pat Dull and his Media Whores (Break-Up! Records). Wednesday, August 12, Bernie's has The Gotohells (Vagrant Records) with Jr. Citizen and The Staggers. Friday, August 14 Bernie's hosts the return of old schoolers Eurogression (Street Records) with Winter Death Club. Next Tuesday, August 18, The Kiss Offs from Atlanta Georgia mount Bernie's five-inch stage, with Tiara opening the festivities.

Welp, that's it for now! See ya next week!

- pat dull


MUNCH MUSIC
Munch on Sports on WTVN will be having local bands play every Wednesday 7-10pm starting in the fall. Though not extended sets, it's a chance to get a few tunes and laughs in and plug upcoming gigs. Interested bands can contact the producer, Sara Nichols, at the following:
[email protected]

WTVN
1301 Dublin Rd.
Columbus, OH 43215

(614) 486-6101
ENOCH LIGHT MEMORIAL COUNTERESPIONAGE
Enoch Light, in case you were wondering, is actually quite the big name in lounge: with his name on nearly as many things as Esquivel and Les Baxter, he guided the Command record label through a maelstrom of percussive thrift store standards, all with distinctively stark covers with black or white geometric shapes. Riding the dueling fads of stereo and percussion, Enoch Light firmly laid the groundwork for space-age bachelor pad musicians to come.
WHAT: The Enoch Light Memorial Counterespionage Go-Go Happening
(with live music by The Weird Love Makers and DJ-ing)
WHEN: Saturday, August 15th, 9pm - 1am+
WHERE: Victorian's Midnight Cafe, 251 West Fifth Avenue (near Neil)
HOW MUCH: Only $1! One measly dollar!
Important Notice For Up & Coming Alcoholics: Victorian's now has BEER.
Woohoo!

See http://pobox.com/~ecc for more info.

- Joel



---



Tuesday, August 4, 1998

BANDS ON THE RUN
Relatively new local band Leeward Terrace will be heading to the studio to record their first full length disc very soon. The band (featuring Dave Carter on sax, vocals & guitar, Wendy Black on guitar & vocals, Greg Gould on lead guitar, Mike Goobianni on bass, and Brian Archer on drums) has been described as "sophisticated intelligent pop" and "a mix of Sting, Dave Matthews, Allman Brothers, Melissa Etheridge, and John Coltrane." Band member Wendy Black has just completed her own full length CD, and the disc will be available at local stores soon. Wendy was a former member and leader of the all female group The Outer Limits. Copies of her solo CD can be ordered at (614) 272-0155.

Two other local bands also have new releases available for the music-hungry public: Our Flesh Party and Orchestraville both have CD's out now. On the national front, the long-awaited third LP from Liz Phair, Whitechocolatespacegg, is set to be released today (Tuesday, August 4, 1998). What the heck, check 'em all out!

WEEK O' ROCK
Bernie's Bagels/The Distillery again corners the market on music this week, with more and more high quality shows pouring onto their calendar. Wednesday, August 5, sees New Bomb Turks label-mates The Red Aunts (Epitaph) with Cheater Slicks and Large Mouth Bastards. On Friday, August 7, it's a Smeared Makeup and Messy Kisses Glam-Rock Horror Show when Detroit's Trash Brats (Circumstantial Records) hits the stage. For the uninitiated, they're sorta like the New York Dolls, if all the members were Johnny Thunders with more hair spray. Also on the bill are the mighty Lordburger and pop-wimps Pat Dull and his Media Whores.

RADIO GAGA
Robert Pollard's Waved Out (Matador) remained perched atop KBUX's playlist last week, while Tiara crashed in at #7 with Calling The Whales (Hub City). Liz Phair's latest on Matador invaded the charts at #4, but the New Bomb Turks seem to be at the end of their radio rope as their latest Epitaph release fell to #23.

Welp, that's it for now! See ya next week!

- pat dull


TORNADO SEASON
Mr. tORNaDo heAd recently moved from Lancaster, Ohio to Columbus. To help settle in they're playing on High Street in Columbus for the very first time on August 15th -- at Little Brothers with the New Duncan Imperial and the Wahoos no less! Coincidentally they'll be making their second appearance on CD101 at 9 pm on Wednesday August 12th! Looking for more spottings? Try their brand spanking new web site at http://www.angelfire.com/oh/tornadohead2/index.html

STAFFING UP
Cringe is getting ready for fall quarter and the new school year. If yer interesting in helping out with the site in any way, now would be a great time to let us know. Contact us any way ya can:

Cringe
133 W. 6th Ave.
Columbus OH 43201
(614) 421-7589
[email protected]
http://www.cringe.com/

- Joel



---



Tuesday, July 28, 1998

WEEK O' ROCK
Bernie's Bagels/The Distillery corners the market on music this week, with more and more high quality shows pouring onto their calendar. Some of the credit goes to rock 'n' roll warrior Tony Barnett, of MOO e-zine fame, for his help organizing and advertising these shows!

This Tuesday, July 28, 1998, we got the black leather jacket and straight-on rock'n'roll of Jack Black from New York City, with Dave & The Alley Cats and The Staggers. On Wednesday, July 29, from Louisville, there's Spider Crutches (featuring Jeff Cook from Rodan & Crain) and Washington, D.C.'s Skull Control (including members of Delta 72 and Monorchid) with Tiara. Thursday, July 30, it's time to enjoy an evening of Columbus Surf with The Vultures and The Stingrays, with Jimmy Flemming. Friday, July 31, from Dayton it's Rob The Bank (featuring members from Mitch Mitchell's Terrifying Experience, The Breeders, & The Method), and Whitey The Man (hmm, who could this be? Gaunt in disguise?????), with Gasohol and Bob City. Saturday, August 1 brings us the sweet sounds of Pretty Mighty Mighty, and Sunday, August 2 has the panic rock of Arab On Radar (from Providence, RI), VHS Or Beta (from Louisville, KY), and the Squeeze-like pop of Push Kings (from Chicago). Don't miss these shows!!

IS ANYONE EVEN INTERESTED?
This Tuesday, July 28, 1998, sees the release of two fairly interesting "from the vaults" recordings that I thought I'd mention here, to fill up some space. The first is a Sex Pistols 4 CD box set. I'm not sure what all is on this thing, but I'm told it will have some of their rehearsal tapes from when they practiced behind Malcolm McClaren's clothing shop. I'm sure the numerous previously-released demos and such will be part of the package. As far as I know, however, the Sex Pistols never recorded a song that they haven't already released in one form or another, so don't expect any "new" unreleased masterpieces. Further, if their other bootlegs are any indication, sound quality may be low -- buyer beware! The other CD is a release of pre-first album demos by Marshall Crenshaw. Fans of Crenshaw's first album will be treated to embryonic versions of "Someday, Someway" and "You're My Favorite Waste of Time." Get it before it's out of print!


RADIO DINNER
Robert Pollard's Waved Out (Matador) remains at the top of the commercial heap for Ohio State University's KBUX's radio playlist. I think that's three weeks running, now! Meanwhile, the New Bomb Turks' At Rope's End (Epitaph) continues to plummet, this time to #11. This leaves all possibility of Columbus rock'n'roll future playlist exposure to the #1 add this week, Tiara's Calling The Whales CD on Hub City. Will they save Columbus rock'n'roll? Find out next week!

Welp, that's it for now! See ya next week!

- pat dull


WEBLINERSVILLE
Are ya looking for more info on Orchestraville's recently released CD? Miss not having liner notes? They've put some simple liner notes on their website.

- Joel

Tuesday, July 21, 1998

YEAH, BUT CAN IT SPEED-DUB TAPES?
AUTOreverse, Columbus' favorite Independent Audio Network (e)zine, has their sixth issue out now! Masterminded by Ian C. Stewart, AUTOreverse specializes (?) in ambient | acoustic | bliss | cassettes | CDs | compilations | death | digital | doom | drone | rum+bass | dub | electronica | folk | gothic | grind | improv | industrial | international | lo-fi | noise | pop | punk | metal | rock | speed | thrash | video | and vinyl thingies. As Ian sez, "If you've enjoyed the AUTOreverse website or are a home recording artist who's curious about what other people are doing with their home studios, please order a copy of AUTO6. Without your support we might as well all go back to reading ROLLING STONE or SPIN! Bleah!" Well said! The new AUTOreverse is 58 pages long, with 236 reviews of independent and self-released recordings, 6 exclusive interviews with sound-artists and a bunch of other awesome crap! Order AUTOreverse Issue Six for $5, making checks out to Ian Stewart, and sending it to:

AUTOreverse
P.O. BOX 3488
Dublin OH 43016-0241 USA

The luminaries interviewed in this issue include: Italian experimental-noise guy Daniele Brusaschetto; US noise/folk songwriter Doug Harrison; French death metal band Scarve; UK lo-fi/improv rock band Warser Gate; US ambient/experimental artist Kevin J O'Conner of Tinty Music; and a piece by US home-pop maestro MJB ... and they've never heard of you either, so there.

KBUX RADIO
Robert Pollard's Waved Out (Matador) has moved to the #1 slot on OSU's radio station KBUX's playlist, pushing Caustic Resin to #2. The New Bomb Turks have fallen to #7, while Pat Dull & his Media Whores cling desperately to #23. Pere Ubu sits at #26.

WILL ROCK AND ROLL SPOIL BRUTUS BUCKEYE?
Frank A. Lazar, past contributor to legendary hardcopy Moo Magazine et al., is currently the President of the Ohio & Drake Union Activities Board (ODUA). ODUA, created to replace the Student Events Committee, is a revival (in name, at least) of an age-old organization at The Ohio State University. In fact, as a side-note, this very e-rag (Cringe) is the extension of a calendar Joel Treadway created to advertise SEC shows ("The Experimental Series" - you may have seen the T-shirts) that were held in the space that is now called Woody's Place in the Ohio Union. ODUA will now be handling all the Woody's Place concerts at OSU. Anywho, Frank is looking for suggestions and help with shows. Give him a call at (614) 292-3117 with your ideas!

WEEK O' ROCK
This Thursday, July 23, 1998, is the Tony Painter Birthday Bash at Bernie's Bagels/The Distillery. In case you don't know, Tony owns and runs Bernie's, and as such, brings countless bands (literally, even on any one night!) to our fair city. This particular night features Daemon Records' The Rock*A*Teens, with Last Crash (from Pensacola, FL), as well as The Jive Turkeys.

The very next night, Friday, July 24, 1998, The North Berg (a.k.a. Donatos Downstairs) will be hosting Columbus' First International Pop Music Fest. The idea of the fest is to provide a monthly showcase for various local pop bands, similar to the tour packages of the 50's, when bands such as Buddy Holly and the Crickets and Little Richard played 20-30 minute sets. Occasionally, touring pop bands will fill out the Pop Fest bill. Playing at the Fest this Friday will be local artists The Marbles, Pop Quiz, The Cusacks, and Pat Dull & his Media Whores. The show will start early (around 10 pm?), so get there promptly! If you've kept your eyes peeled around the campus area, you may have come across an Audio Flyer cassette promoting the show. On the cassette you'll hear one song from each of the bands playing at the Fest! Side One features "Yeah Yeah Yeah" (Pat Dull & his Media Whores) and "Envious Bystander" (The Cusacks), while Side Two has "Moves and Grooves" (Pop Quiz) and "Reputation" (The Marbles). There's also a Who song at the end of each side to fill up the extra space. Look for it!!

Welp, that's it for now! See ya next week!

- pat dull


DISBANDED BACK FORTY
I was snooping around some sites and came across this little blurb from May 1998. Big Back Forty has disbanded. It's not a complete loss though -- frontman Sean Beale is staying on the label as a solo artist.

Rhetorical trivia: Name a local band that hasn't broken-up or been booted before releasing a second full length on a major label.

BASEMENT RAISING
Bernie's Distillery has had an eventful month. Not only is it Tony's birth month, but Tony and Roma are celebrating their third year running the joint. Just in time for the festivities, the club has had a bit of a face- and ear- lift too. Much of the extraneous ceiling duct work was stripped out. Warning: you still shouldn't jump or stretch too high. Most importantly, a new and improved sound system and sound booth were installed. If it's too loud, you can still hear!

- Joel



---



Tuesday, July 14, 1998

LIFE IN THE PROJECTS
Community Projects, a relatively new label on the Columbus scene, is set to release its first two full length albums in the near future (the label's debut release was the Midway seven-incher a few months back). The two CD's are Midway's Today Is The Day and Rod's Living, Laughing, Learning. There's a Community Projects record release party tonight (July 14, 1998) at Bernie's Bagels. Brian from Midway says that Midway will be on a US tour from July 11th to August 25th. You can find out all the tour dates and other stuff at the official Midway website at http://www.geocities.com/SunsetStrip/Underground/1785.

WEEK O' ROCK
This Thursday, July 16, 1998, kicks off Bernie's Bagels 3rd Anniversary Weekend with the 60's-style garage pop of Cincinnati's Greenhornes, with surfa-go-go courtesy of The Vultures, and heavy handed pop from Fulbone. Friday, July 17, 1998, brings Detroit's In The Red recording artist The Dirtbombs (featuring Mick Collins, formerly of the Gories and Blacktop), and Cheater Slicks, with Flipping Hades and Guinea Worms rounding out the bill. Saturday, July 18, 1998, has Columbus' own V3, Kent's Fuzzhead, and Chicago's New Rob Robbies and Moto playing the final night of the anniversary shows.

KBUX RADIO
In case you're interested, the #1 album this week on KBUX, Ohio State University's college radio station, is Caustic Resin, with The Medicine Is All Gone (Alias), while #2 is Robert Pollard's (Guided By Voices singer) Waved Out on Matador Records. Columbus' own New Bomb Turks have dropped to #4, while Pat Dull & His Media Whores have sunk to a humiliating #21. Pere Ubu's Pennsylvania (Tim Kerr) peeks in at #24.

Welp, that's it for now! See ya next week!

- pat dull


MANIFEST IRONY
Now, we're all used to local release parties lacking the main ingredient -- the release. It's just a bit ironic that one of the most recent no shows is entitled Manifest Destiny. That and the fact that we here at Cringe were able to manifest a pre-release copy of Our Flesh Party's latest CD a few months ago. OFP made up for the pressing problems with a few free tape EPs at the release party.

FREE CONNELLS TICKETS!
Cringe staffer Torsten has a pair of tickets to the Connells at the Newport on Wednesday, July 15 he's not going to be able to use -- it's the same night he's video taping Pretty Mighty Mighty and possibly others for potential inclusion on the PMM/Cringe site. The trouble is we didn't come up with a way to run the giveaway.

I telya whut, the first person to email [email protected] with the name of the upcoming movie the Connells have a tune in gets the pair. If no one guesses right, we'll give them to our favorite guess or Cringe suggestions. Be sure to include the best way(s) to contact you.

- Joel



---



Tuesday, July 7, 1998

POP MUSIC FEST
Local popsters The Cusacks are in the process of organizing an International Pop Music Fest of sorts at Donatos's Downstairs (a.k.a. The North berg) for Friday, July 24, 1998. They're looking for various pop bands in town to join in, and ultimately make this a semi-regular (monthly?) event with a national act to be featured at each fest! Right now the lineup for the first festival will be The Cusacks, Pat Dull and his Media Whores, Pop Quiz, and The Marbles. Contact Dave or Travis (of The Cusacks) at

[email protected]

, or call (614) 488-0565 for more info. The Cusacks' CD is available at Used Kid's Records if you'd like to check it out!

RAH RAH RADIO
KBUX's playlist shows most of our local bands on the downslide this week, led by the New Bomb Turks' mighty slip from #1 to the #3 slot. Them Wranch is the only local group to gain in the polls, moving from #24 to #13. Of the newcomers to the charts, Dayton-ite (and Guided By Voices lead voice) Bob Pollard is the #1 add with his sophomore solo effort Waved Out on Matador Records.

TALES FROM THE ROAD
Orchestraville has just returned from a week-long tour, and they apparently had a great time! Highlights include going to Hell (a bar) while staying in Chapel Hill; playing in Arlington with a great band called Townies and former Miracle Legion singer Mark Mulcahy; their van breaking down in West Orange, NJ, two hours before load-in time for that night's show in NYC; Babe the Blue Ox (enough said); seeing Diamanda Galas at the Knitting Factory; playing to nobody in Rochester, NY; and the guitar player from Love As Laughter blowing one of Orchestraville's amps. And they're ready for more, so they say!

The band will have a CD ready any day now, depending on the pressing plants' strange, non-linear schedule. If you are interested in getting a disc, just send a $10 (check or money order made out to Chris Forbes, or cash) to: Orchestraville, PO Box 10766, Columbus, Ohio 43201.

THIEVES IN THE TEMPLETON
A new local band calling themselves Templeton will be hitting the streets within the next month or so. The lineup features Christian Hurd (formerly of Tater) on guitar and vocals, Bryan Myers (Melk) on guitar and vocals, Emily Allen (Monster Zero) on bass, and Ben Kemp (Cali Swain) on the drums. They have shows set up for Saturday, July 18 at the Union in Athens, and Monday, July 20 at Bernie's. A record is also in the works (already?), as well as a homepage. Stay tuned.

Along the same lines, Junior Citizen has a home page located at http://juniorcitizen.dyn.ml.org, with MP3's (whatever they are) of their songs.

Welp, that's it for now! See ya next week!

- pat dull


WHITE WHITE WEST
Rumor has it the White-Outs (excluding their cute bassist) are moving to Cal-i-for-ni-a. Does this mean they're breaking up? Maybe not. There's a good chance they'll hook up with My White Bread Mom's bassist and continue their wave of corruption on the west coast.

COLUMBUSITES
There's a new alternative paper in town. The monthly Columbus Web Observer focuses on the Columbus web community and had some nice things to say about Cringe among other local and not so local sites. You can visit their site at http://www.webobserver.com/.

- Joel



---