Previous Issue | Next Issue
Yeah Buddy


Intro | Notes & News | The Lowdown | Releases | Reviews | Ads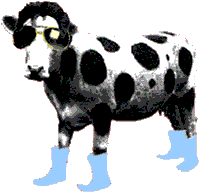 The
Weekly
Lowdown
---
Wanna tell me what's going on with your life? Well, you can, if you want your band and/or musical endeavors written about here. There are three easy ways to get in contact with me:
Pat Dull / 3935 Farm Brook Lane / Columbus OH 43204-5003 / (614) 272-9008 / [email protected]

---



Tuesday, June 30, 1998

FLAG BURNING
Jerry Dannemiller of Moviola has been organizing the most unpatriotic of events for this July 4th weekend; and boy, is it filled with ROCK! Dubbed "Redneck, Whitetrash, and Boombox" the party will be held Saturday at BLD Studios (400 E. 2nd Ave., between N. 4th and Cleveland). The lineup of bands, beginning around 4pm, is as follows:

Guinea Worms
Jenny Mae
Flipping Hades
My Uncle Wayne
Koo Stark
Moviola
Bassholes
TJSA
Cheater Slicks
The madness is supposed to end around 11 pm or 12 am ... but does madness ever really end? I think not! In between bands, they'll be dj's, spoken word sets by Gilmore Tamny and Julie Otten, and short movies playing. There will also be a lamb cooking on a spit, as well as volleyball and other games. According to Jerry, the party is byob, and anyone under 21 caught drinking will "have their lily-pure ass escorted out." Oh sure, they can go to war for your lame butt, but they can't kick back with a cold one. Well, good thing the kids today are just wild about mutton!

YOU DON'T KNOW SHINOLA
Shinola has been playing the "outside-Columbus" circuit lately, and are currently working on recording new songs for their second CD, which will be out sometime in September or October. They were back in town this past Sunday for the ComFest. It was their first show in Columbus in over a month and, allegedly, their first show ever in the daylight! On Saturday, July 11th the band will be playing at the Ohio Original Music Showcase at Ruby Tuesday's. The other bands that night are Little Billy Catfish Trio from Cincinnati and The New Roddicks from Cleveland. On Saturday, July 18th, Shinola will be playing a few of your favorite songs by people named Bob at the Bob-A-Thon music charity, to be held at Chelsie's.

UNCLE FENSTER
Fenster will be going into the studio July 1 to record a full length CD. The final release is scheduled to come out sometime later this year or early next ... but for those of you who want immediate satisfaction, a two song cassette will be made available in late July. Any information about shows or recordings can be sought out at http://www.fensterband.com, and the band can be E-mailed by writing [email protected].

Welp, that's it for now! See ya next week!

- pat dull


BASHING THE BOOM
Redneck, Whitetrash and Boombox not close enough for ya? I know it's awfully close to one of my Favorite phrases -- Redneck, Whitetrash and Blue Ribbon. Check out this changing tradition ...

WHAT: Red, White and Fuck You EIGHT!
WHEN: THIS FRIDAY! July 3rd, 9pm-2am
WHERE: Magnetic Planet: 1202 N. High St., enter from the rear (Pearl Alley)
HOW MUCH: $3
SPECIAL NOTE: YOU MAY BRING DRINKS. Alcoholic or otherwise. This is a very
unrestricted zone, and if you want to party nude, party nude... which might
not be a bad idea since it could be very hot. Magnetic Planet is near 5th
and High; it's in back of the Roots reggae store.

Try http://pobox.com/~ecc for more info.

CRINGE RESIDENTIALS
It looks like Pretty Mighty Mighty put their CD on hold, but a (handmade) EP should be available in local stores very soon - like this week.

The new Seldom Scene Records site went up on Cringe over the last few days. If ya find the design a bit more sophisticated than Cringe's normal text/info-based format, that's because I didn't do it. Now ya see the difference between a designer and a programmer?

- Joel



---



Tuesday, June 23, 1998

INTERNET KILLED THE RADIO STAR
According to some flyers I've seen on High Street recently, there may be a pirate radio station located right here in Columbus! If I remember correctly, the station is currently operating only on Thursday nights, and can be found around the 91.5 FM range (I've gotta double check on that info, though)! The ironic thing is that recently Free Radio Berkeley, one of the best known unlicensed pirate station in the United States (if not the world), was shut down. Apparently, the court case (which kept them on the air while pending) was decided against them ...

In other radio news, Ohio State University's KBUX June 15, 1998, playlist is chock full of local artists! Currently, the New Bomb Turks' At Rope's End is still perched atop the heap, while Pat Dull & His Media Whores' 7-incher All Torn Up (on Break-Up! Records!) has crashed into the #9 slot (surely the result of severe document misfiling). Jenny Mae's excellent Don't Wait Up For Me (on Anyway Records), after many weeks on the chart, has slipped to #12, while up-and-comers Them Wranch's wraunchy 7" opus God Bless Them Wranch (on, sho 'nuff, Them Wranch Records) splashes in at #24! Kudos to KBUX for playing so much local music!

LOCAL RELEASES
Mark G., O.P. [Original Prankster] and Chief Executing Officer of The Evolution Control Committee (http://pobox.com/~ecc) has a new single out, indelicately entitled "Rocked by Rape". If you know anything about ECC, you probably know that it exists to warp, stretch, and manipulate reality (or what passes for reality) into a wholly different thingy. Last year, ECC laid a deliciously devilish egg on the scene, splicing a Herb Alpert and the Tijuana Brass backing track with a Chuck D and Flavor Flav (Public Enemy) vocal attack, to hilarious effect. This time out, "Rocked by Rape" takes numerous Dan Rather news sound bites, and injects them into a hip hop AC/DC backbeat. It's an excellent piece of work, and you should check it out if you can find it! (Try Magnolia's) My only complaint is that the B-side simply repeats the A-side, with no apparent deviation. Am I missing something?

In other news, Columbus' only gut-boogie Blue Cheer rockers Lordburger recorded some basic tracks last week at Workbook Studios, some of which may be used for a forthcoming split single with Swivelarm Battlegrip. The 'burger laid down at least four tunes, each with their own enticing title (e.g. "Cocksucker," "Heroin Toothpaste, " and "Greasy Fried Chicken"). Get the idea? Sorta like a rock sandwich with cheese.

BIG UP AND COMING SHOWS THIS WEEK
This Thursday sees the reunion of legendary drug-fueled combo Gasohol at Bernie's Bagels, along with Biblical Proof of UFO's and Guinea Worm. On Tuesday, Mojo Nixon crashes the party at Little Brother's, with the mysterious Henry X opening the show. Wednesday is industrial night at Lil' Bro's, with SMP, Level 205, and Columbus' own Martyr Colony. Thursday sees Paul K and Jenny Mae at the same venue.

Welp, that's it for now! See ya next week!

- pat dull


The deadline for the current online issue of Cringe is June 30, 1998. We're looking for anything and everything local (OSU/Short North area) music related: Reviews, news, recordings, stories, interviews, comics, photos, fun & games, contact info, etc. Get 'em to us anyway ya can:

Cringe
133 W. 6th Ave.
Columbus OH 43201

(614) 421-7589

- Joel



---



Tuesday, June 16, 1998

RADIO SCHMADIO
Just when I go shooting my mouth off about how Ohio State University's KBUX should put more local music on their regular playlist (see last week's Lowdown), I received their June 8, 1998, playlist that same day! The latest list has the New Bomb Turks miraculously reappearing on the top notch after about a three week absence, and swirl-popper Jenny Mae still holding firm at the #5 slot. What more could be asked for in promoting local music? Even more amazing, however, and further evidence that anything can be bought, the number one add this week (last week it was Slayer) is none other than Power Pop pretenders Pat Dull & His Media Whores' 7-incher All Torn Up, on Break-Up! Records! KBUX' website can be found at http://kbux.ohio-state.edu, maybe you can check verify it there! KBUX has also put together a Metal Top 15, featuring the likes of (in order) Zao, Slayer, Monster Magnet, Stanford Prison Experiment, Buzzoven, Converge, Mindrot, Clutch, Kilgore, Anthrax, Bloodlet, Ultraspank, and Soulfly. Hmmm, is there that much metal out there?

HERE COMES THE BURLAP SUN
Burlap Sun has replaced their former keyboardist (who left for "career opportunities" in Cleveland) with D. Skite, formerly of Colorblind. He will be taking over the majority of the singing parts, with Jinx continuing to "rap is ass off." D.'s debut was at Ruby Tuesday last Friday, but you can catch them again at Bernie's this Friday, June 19, 1998, as well as at Comfest on Saturday, June 27, 1998 @ 8:00 pm in the Jazz Tent. They also have a Web Site at http://www.forccr.com/burlapsun, and a new CD called Sunny Intuition available at local campus record stores.

PILLAGING WITH THE CUSACKS (or is that Cossacks?)
Local pop rockers The Cusacks have a four song e.p. entitled Special Treasures that will be hitting the streets (or at least their shows) in the next couple weeks. Hopefully, they will be officially unleashing it at their show with Them Wranch at Bernie's on Saturday, June 20, 1998. Get out there and support the home team!

BIG UP AND COMING SHOWS THIS WEEK
Bernie's Bagels has a plethora of rock this week. On Tuesday, June 16 it's Canadian pop punkers Chixsdiggit with the Groovie Ghoulies and the Bedroom Boys, while Wednesday, June 17 brings Matador Records' Guitar Wolf, Crypt and In The Red Records' Cheater Slicks with Spider Frendz. Unfortunately, the headliner for the Thursday, June 18, show (Karma To Burn) has canceled, but Nebula (featuring former members of Fu Manchu) and Flipping Hades will still be performing. (Nebula may have canceled too. The bill looks to be Flipping Hades, Lem Darro, Bigfoot and the Velveteens.) Sounds like there's a lotta rock out there, so quite yer whining!

Welp, that's it for now! See ya next week!

- pat dull


IT'S HARD
Hardcopies of this year's Cringe finally hit the streets over the last week. Distribution is being done slowly and in small quantities throughout June. Look for them at local-music-oriented clubs and maybe a few other spots. Bernie's, Northberg Tavern, High Five and King Avenue have already been hit. Little Brother's, Chelsie's, Oldfield's, Ruby Tuesday and others should be hit any day now.

The deadline for the current online issue of Cringe is June 30, 1998. We're looking for anything and everything local (OSU/Short North area) music related: Reviews, news, recordings, stories, interviews, comics, photos, fun & games, contact info, etc. Get 'em to us anyway ya can:

Cringe
133 W. 6th Ave.
Columbus OH 43201

(614) 421-7589

- Joel



---



Tuesday, June 9, 1998

MORE RADIO PAYOLA SCANDALS
Ohio State University's KBUX has released their latest playlist, and Columbus' own Jenny Mae holds firm at #5. However, other big league Columbusites, such as Scrawl, Gaunt, New Bomb Turks, and the Bassholes, have been dropped from the list like ping pong balls on the Captain Kangaroo show. Admittedly, the list is pretty diverse (the top ten, in order, are Gang Starr, Firewater, Tricky, Danko Jones, Jenny Mae, Money Mark, DJ Cam, Sonic Youth, Flu Thirteen, and Public Enemy), but I'd personally like to see more local artists on the list. This is especially true in light of the news that the station might be getting some international (not to mention much-needed additional campus area) exposure. Incidentally, the number one add this week was Slayer's latest opus Diabolus In Musica. Ooooh, scary.

*** NEWS REPORT ***
Dateline: Columbus, Ohio.
Leadin: COLUMBUS REELING FROM SATURDAY NIGHT ROCK SHOW

Columbus (AP) Columbus was leveled last Saturday night by mysterious Pop Invaders from Chicago, IL, known only as Big Hello. Using the subterranean Bernie's Bagels as a home base, Big Hello can only be said to have "killed" the audience, leaving our fair city reeling in the aftermath. One victim was reduced to rhythmic convulsions during the onslaught, contorting in a macabre dance in time with the explosions. Several survivors were seen to be walking about in a dazed state afterwards, nursing ringing ears and other puzzling hangover-like side effects. Authorities fear that Big Hello will return to "finish the job" and enslave us all. Perversely, bizarre Big Hello cults have formed to prepare for this return. Is this the end, or merely the beginning? Film at eleven.

BIG UP AND COMING SHOWS THIS WEEK
Tonight (Tuesday, June 9, 1998), Little Brother's hosts the amazing roots-rock sounds of The Honeydogs. Their CD, Seen a Ghost, is an amazing blend of country, folk, and rock, all seasoned as if The Band were playing at a debutante's ball. Tickets are only five bones in advance ($7 at the door).

Thursday, June 11 kicks off a week-long event of truly great shows at Bernie's Bagels. That night it's the phenomenal local lineup of Moviola, The Vultures, The Stingrays, and Preston Furman, while Friday sees Rock 'n' Roll with a Swing Edge pioneer Wolfgang Parker rocking the house. On Monday, June 15, super-alterna-group Truly is playing at the same venue. Truly features former members of Soundgarden, Screaming Trees, and Built To Spill. On Tuesday, June 16, it's Canadian pop punkers Chixsdiggit, with the Groovie Ghoulies and the Bedroom Boys, while Wednesday, June 17, brings Matador Records' Guitar Wolf and Crypt and In The Red Records' Cheater Slicks, with Spider Frendz. Unfortunately, I've heard that the headliner for the Thursday, June 18, show (Karma To Burn) has canceled, which is a drag because apparently KTB were featuring John Garcia (from Kyuss) on vocals. Nebula (featuring former members of Fu Manchu) and Flipping Hades will still be performing.

Welp, that's it for now! See ya next week!

- pat dull


MORE IN STORE
Evolution Control Committee (http://pobox.com/~ecc) are celebrating their recent successes with an in store appearance at Magnolia Thunderpussy Records, 1591 N. High (421-1512) this Thursday, June 11, 1998 at 7pm. The show is free, but they're hoping to entice you with their new single on Eerie Materials.

- Joel



---



Tuesday, June 2, 1998

SOME BANDS HAVE ALL THE KARMA DEPARTMENT:
Turns out local band Emperors of Bad Luck won't be opening for Cheap Trick at the Alrosa Villa on Friday, June 12 after all. Cheap Trick had to cancel the date due to alleged "conflicts in their schedule," but word on the street is that the band got a better offer to play a show in Barbados(?!). Anyway, before you start to slash your wrists, the show may be rescheduled for August, and the Emperors will still, hopefully, have the opening slot.

KOO KOO FOR BASS PLAYERS DEPARTMENT:
Apparently local art-rockers Koo Stark need more bass than John Goodman at a fish fry. Seems another bassist has left the fold; this time it's Andy Robertson moving on to devote more time and energy to his power trio Them Wranch. In the meantime, Koo Stark is on the look-out for a new bass player, so if'n you know any interested parties, call Bob @ 424-9989.

BIG SHOES DEPARTMENT:
Two big shows are happening this week. First off, tonight (Tuesday, June 2, 1998) The Automatics are playing at Bernie's Bagels. The 'Matics are known for their 10 Golden Greats series on Mutant Pop Records, wherein the band crams 5 songs onto each side of a seven-inch single! Crazy, man!

Also, on Thursday, June 4, 1998, Little Brothers is the host for the original DYI backwoods crazy man Hasil Adkins. I can think of one very good reason to go to this show: Sting hates him. It's true, I saw it in a letter reprinted in Kicks magazine; Sting said something to the effect that The Haze was "amateurish gibberish." What, does God have to come down Himself and drive you to the show?

RECORD RELEASE MANIA DEPARTMENT:
Local band lucwarm recently unleashed their first full-length CD on ROWNrecords. Recorded at Basement Tracks Studios by Derek Bell from Monster Zero, and mixed by Jon Chinn at Workbook Studios, the CD has "local indie cred" written all over it. You can e-mail lucwarm at [email protected] for more info.

Finally, a record release party for Pat Dull and his Media Whores will be held on Saturday, June 6, at Burnie's Bagels/The Distillery. Also on the bill will be Chicago's legendary Big Hello, and Columbus' own Brit-poppers Pop Quiz.

Welp, that's it for now! See ya next week!

- pat dull


NEW AT CRINGE
Bigfoot has become our newest resident. It's still being developed, but go ahead and take a look: http://www.cringe.com/bigfoot/. Another new addition to the site is a Threaded Message Board. You'll find it at http://www.cringe.com/extra/board/

BANDWAGON
Tiara's bassist has moved on to the "working" world -- can't knock a decent salary and benefits. But never fear, one of their three (Count 'em -- 1, 2, 3) guitarists has moved on to bass.

Pretty Mighty Mighty should be releasing their CD to local record stores this week. Torsten, the Cringe staffer in charge of their site here, has also started a PMM mailing list. To join the list, send a message to [email protected] with "subscribe mightymail" in the body.

- Joel



---



Tuesday, May 26, 1998

SOME BANDS HAVE ALL THE LUCK DEPARTMENT
Chris Wood, from the local band Emperors of Bad Luck, have landed the opening spot for the Cheap Trick show at the Alrosa Villa set for Friday, June 12th. Tickets are only $10.00 in advance, and go on sale Tuesday, May 26th at Ticketmaster outlets and the Alrosa Villa. Cheap Trick is celebrating their 20th Anniversary of the Live at Budakon album, and they recently had 5 sold-out nights in Chicago at the Metro. Allegedly, each night they played a different Trick album in its entirety!

RADIO RADIO DEPARTMENT
As Gaunt falls off the charts at Ohio State University's KBUX radio station, Jenny Mae's Don't Wait Up For Me on local label Anyway Records creeps up high on the list. It was the Number One add to the playlist last week, and this week it landed at the Number 5 overall slot, just between Sonic Youth and Fugazi. Other local acts on the playlist are Scrawl's Nature Film (on Elektra) at #22 and The Bassholes' Long Way Blues (1996-1998) (on Matador) at #23. Let's go Home Team!

RECORD RELEASE MANIA DEPARTMENT
Local band The Azoic have just released their second CD, entitled Where Broken Angels Lie on Nilaihah/Worm Records. The Azoic is a gothic/industrial with female vocals, and have appeared on various compilations. They are embarking on a US tour in August, but their CD release party was earlier this week (May 25th, Memorial Day) at Maxwell's. Sorry about the late notice, but I just found out myself! All of the Azoic's releases and merchandise can be found locally at World Record and Magnolia Thunderpussy's.

In addition, the newest single on local label Break-Up! Records has just hit the shelves. The seven-incher, called All Torn Up by Pat Dull and his Media Whores, is a four-song Power Pop e.p. kinda like skinny-tie stuff from the late Seventies. The Whores will be hosting a record release party on Saturday, June 6th, at Bernies Bagels/The Distillery. Also on the bill with be Chicago's legendary Big Hello, and Columbus' own Pop Quiz. Colored vinyl copies of the single, as well as buttons, will be available for the collector geeks!

Finally, the New Bomb Turks' belated record release party for At Rope's End (on Epitaph, released in April) will be held this Friday, May 29th, at Little Brothers. Opening the show will be Bluebird.

Welp, that's it for now! See ya next week!

- pat dull



---



Tuesday, May 19, 1998

The Rip-Off Artist Formerly Known As Prince Department
Well, Prince came to town last week, finally bringing his stealth-tour to the Columbus Convention Center. I say "stealth-tour" because the Purple One's latest bit of weirdness is to announce each show only two days before the actual gig, allegedly in a noble effort to curb ticket scalping. But with ticket prices skyrocketing to $40 apiece these days, who's scalping who? The real rip-off, however, was the show itself. Although the ticket stub stated a 9:00 PM starting time, no one appeared onstage until well after 10:00 PM; no problem on a weekend, but a killer on a Wednesday night. As the show started, so did the confusion; Prince was on stage, but he wasn't playing Prince songs. In effect, for at least one and a half hours, Prince was basically the backup keyboard player for what turned out to be opening act Larry Graham. Graham, a former member of Sly and the Family Stone, played at least four Sly Stone songs and numerous, numerous others. All this would have been fine if it would have been made clear that this was an "opening act," but that thought never entered anyone's mind because there was Prince on stage! After each Larry Graham song, everyone was thinking "Okay, now Prince will kick out "When Doves Cry", but it never happened. People actually started leaving at around midnight, without hearing a single Prince song, but those who left missed Prince's hour-long medley, which basically consisted of Prince singing the first verse of each song, followed by a three minute guitar solo, followed by a five minute costume change. Sure, the hits were there, from "Purple Rain" to "Gett Off", but basically everybody's steam was already spent. Quite a letdown, actually.

Exploding drummer Department
The Sweetbreads have a new drummer, Darryl Mendelson (of Monkey's Retreat and Mendelsonics fame), and the band played at last weekend's Undercurrents '98 National Music Conference in Cleveland, Ohio. In addition, the band recently did some counting, and it turns out that their 50th gig will be Wednesday, May 27 at Bernie's Distillery. The lineup is (in order of appearance): Bubba Ho-Tep, the Sweetbreads, and Joe Bob Billy. Further, their web page is now up and running at http://members.tripod.com/~thesweetbreads. It features band photos, audio samples from their E.P., upcoming gigs, reviews and more! For more information on the Sweetbreads call Brian at (614) 447-0269, or email at [email protected].

Welp, that's it for now! See ya next week!

- pat dull


Summer in the City
The summer draws near and its temperatures are already here. Likewise, the Cringe Summer 1998 Events calendar is up. As always, it covers local music related fests, events, and outdoor shows in the Columbus/OSU/Short North areas. We're still compiling info for it, but many of the basics and biggies are already posted: http://www.cringe.com/extra/calendars/fests.htm

If you have info pertaining to any such events, get it to us anyway ya can:

Cringe
133 W. 6th Avenue
Columbus OH 43201
(614) 421-7589

Bad luck rules!
Emperors of Bad Luck are recording three more songs with Andy Harrison (guitarist fer Howlin' Maggie, Oswald and the Herringbones and, if ya remember, the Zoo.) as producer. The tentative working title for the disc is Lucky. They hope to release something by late fall.

Look Alive
Glancing through Columbus Alive's Live Music calendar listing several weeks ago I noticed more than just design, typography and publishing date changes. I found an extra day. The old version came out on Wednesdays with a calendar that ran Wednesday through the following Tuesday. Now it comes out on Thursdays with a calendar that runs Thursday through the following Thursday -- much like the now defunct Columbus Guardian did not so long ago. I know I truly appreciate the extra day. Now someone just needs to tell them Chaos Theory hasn't actually played at the Out-R-Inn every Monday for the last 2 or 3 years. Then again, since the Out-R-Inn generally only has shows outside in the warmer months, the listing may be correct again for a few months. Hmm, sounds like we both better call the Inn to see if the shows have kicked in.

- Joel



---



Tuesday, May 12, 1998

Mighty Rock Show of the Month Department
Three Columbus rock legends/juggernauts will be storming the stage at Little Brothers this Friday, May 15, 1998: Scrawl, Greenhorn, and Thomas Jefferson Slave Apartments. Scrawl is celebrating their sophomore release on Elektra Records, the saucily-entitled Nature Film. It's been quite awhile since any of these bands have played in town, so come early; it's sure to be packed to the gills.

"Why isn't Hot Pursuit playing?"Department
This Saturday, May 16, 1998, the Columbus faction of the Anti-Racist Action will host a music/information rally at 16th and High (across from OSU campus), starting at 11 a.m. and ending at 12 midnight. The rally will feature numerous performers, such as Snotlocker, Soulfinger, The Gathering, Jim Maneri, Hip Hop Unity, Triggahappy, Platypus, Wolfgang Parker, The Vultures, and Pop Quiz. There will also be various activist groups on hand, with information booths set up by the Student Environmental Coalition, Amnesty International, and the Community Action Group. For more information, call (614) 424-9074.

Bumping in the Street Department
I ran into Jon Chinn, recording guru at Workbook Studios, the other day, and he hipped me to the fact that Jr. Citizen has been laying down some tracks recently. Jon informed me that all of the 4 or 5 five tracks recorded so far were very good, with one song in particular sounding "quite excellent." Be on the lookout!

Welp, that's it for now! See ya next week!

- pat dull


Folky Grrl from Grunge Country?
All the way from Seattle, it's Jen Wood. Here's what CMJ Monthly had to say:
"Following in the footsteps of Northwestern do-it-yourself singers like Lois and the Spinnanes' Rebecca Gates, Wood crafts poignantly personal songs with layered harmonies and simple instrumentation. A spare but powerful style. Getting Past The Static is quietly empowering, and when Wood's playing grows bolder, her voice rises to meet it, soaring and confident. This emotional range serves her well. Her music also benefits from flashes of non-conformity. With Static, Jen Wood proves that she's her own 'in crowd'"
The show is Wednesday, May 13, 10 pm at Bernie's/The Distillery. Locals Cali Swain and the Velveteens are also on the bill.

Star Shinola
Shinola Gets Another Movie Deal!! The song "That Girl Is Dead" will be used, in it's entirety, in the up coming film Agent Utah. The film from Hollywood's Thazz Ckool Productions, according to Thazz's press release, is "a documentary of the snowboard youth culture."

- Joel



---



Tuesday, May 5, 1998

RECORD RELEASE MADNESS DEPARTMENT
Columbus rockers Them Wranch (formerly The Ranch, until a gig misspelling prompted the name change) are hosting a record release party at Bernie's Bagels this Friday, May 8, 1998. The 7-inch release (God Bless Them Wranch) features two songs, "Podunk Punk" and "God Bless Ohio", and is available in at least two excitingly different styles of colored vinyl. Them Wranch have been whacking it out on the local club circuit for quite some time now, and have released several self-produced cassettes of notoriously low sound-quality reproduction. Happily, however, this single doesn't repeat that sub-basement sound, opting instead for a much clearer, all-out rocking din. Check 'em out, and if you see me there, buy me a beer...it'll be my birthday!!

LOCAL BAND MAKES GOOD DEPARTMENT
After just arriving home from playing the CROSSROADS '98 Music Exposition in Memphis, TN, Shinola has informed Cringe e-zine that they've just inked a deal with the producers of an upcoming Hollywood movie. The movie in question, tentatively called The Others, will be using a song ("Hello") from Shinola's latest CD, and will also include the song on The Others soundtrack, if a soundtrack is released. Just make sure Pauly Shore isn't in the starring role.

LOCAL SHOWS DEPARTMENT
In venue-poster news, the calendar for Little Brothers is listing a Record Release party for the New Bomb Turks to take place on Friday, May 29, 1998, in celebration of the rocking release of At Rope's End. The question remains, however: do the Turk boys even know about it? Last I heard, there wasn't one scheduled, and the band recently left for a four week tour of the USA. The plan is for the band to be back in town by May 25, 1998, but who knows? Hopefully, all will turn out well!

Finally, rumor has it that Cheap Trick are playing in Cincinnati this weekend (specifically, Saturday, May 9, 1998), so check out the local papers (or call the boys in Watershed) for more details!

Welp, that's it for now! See ya next week!

- pat dull



---



Tuesday, April 28, 1998

POETRY SLAM DANCING DEPARTMENT
Former Dead Kennedy lead singer Jello Biafra made a rare Ohio appearance last Thursday at Denison University to give a spoken word performance for Denison's Anti-Racist Action. I would have reported this last week, but I only found out about it the day before the show. Needless to say, I hotfooted it down to Granville for the 5 pm show (took an hour's vacation from work, to boot!). Biafra spoke for about four (yes, four) hours, the first half of which consisted mainly of reading from prepared pieces, all of which were written on the back of various fliers and other scraps of paper - viva recycling! Most of the topics were culled from his four previous multi-album spoken word sets. After a short intermission, Jello returned and gave a more free-form type of performance, aided by a copiously scribbled crib sheet. Jello was always interesting, but four hours of anything (yes, even that) can lead to distraction, so much so that I noticed that Jello was still wearing the Lone Star western-style belt buckle from his early days (check out almost any old photo ... it's there!). The main subject running throughout the entire evening was a discourse on how greed was the apparent motivation behind most, if not all, corporate activity. After he was shut down by security (they wouldn't give him 10 more minutes to complete his final piece ... they wanted to open the bar), Jello graciously spoke to fans and signed autographs. One crusty punk, in a misguided attempt to show how "hip" he was to Jello's message, loudly exclaimed that "autographs are a form of greed," to which Jello earnestly replied "Oh, I don't think so. I remember how excited I was to meet The Ramones in 1976, and I got their autographs on all my albums. I always try to do the same for fans." Right on!

RADIO RADIO DEPARTMENT
For the past month or so, Gaunt's Bricks and Blackouts has sat perched atop the playlist at Ohio State University's KBUX, boxing out New Bomb Turks' At Rope's End. This week the song remains the same, but this week's adds to the playlist may change the tune sooner than you can say "payola scandal." Two other local contenders to the throne have appeared on the charts, starting with the number one add by The Cheater Slicks called Skidmarks on Germany's premier garage label, Crypt Records, quickly followed by The Bassholes at #2 with Long Way Blues (1996-1998) on Matador. What's next, Lordburger on Columbia?

LOCAL SHOWS DEPARTMENT
Several interesting shows are happening this weekend, and Bernie's is hosting two that merit your attendance. First up is the Poem Rocket, Moviola, and Revelers show on Friday, May 1, 1998, followed by Dana's Birthday Bash with Greenhorn and Wolfgang Parker & the Jumpin' Terrors on Saturday, May 2, 1998. Should be a wild weekend of rock for all!

Welp, that's it for now! See ya next week!

- pat dull



---



Tuesday, April 21, 1998

LOCAL SHOWS DEPARTMENT
Several interesting shows are happening this week. On Wednesday, April 22, 1998, local music wizard Jon Chinn is hosting his semi-regular "Putting It Back In Their Pants" show, wherein local rock personas shed their fellow band members to bask in the humiliating glow of solo performance. No pounding bass drum to hide behind here! Just weepy acoustic tear-jerkers played by hearts-on-sleeves sensitive types. The night will feature sets by the frontmen of Tiara, Silo the Huskie, Pretty Mighty Mighty, the Media Whores, Jr. Citizen, and several others. The show is at Bernie's Bagels. In his spare time, John also runs Workbook Recording Studio in Columbus.

Bernie's will also be the setting for this weekend's arrival of Detroit's answer to the New York Dolls, The Trash Brats. The glam outfit rolls into town on Saturday, April 25, 1998, to kick out the jams in a big mofo-ing way. Also on the bill are Midway and the Media Whores.

Finally, on Sunday, April 26th, 1998, Ohio Wesleyan University in Delaware is sponsoring SpringFest '98 in the Branch Rickey Fieldhouse. This year, They Might Be Giants & Goldfinger are playing. Admission is FREE, and no advance tickets are required. Doors open at 1:30 pm and there are two opening bands (Lincoln and Wank). For more information, including directions to the show, be sure to check out http://www.owu.edu/~ucc1web.

REPORTING FROM THE TRENCHES DEPARTMENT
Local spoken word artist Lady Monster reports that the recent Dash Rip Rock show at the Newport was a huge success. In fact, it seems the boys were in town for a wedding, and arrived at the Newport from a reception at the Kahiki just minutes before they were supposed to play. Lady Monster has been going to see DRR ever since she saw them open for the dB's in '88 at Stache's, and has developed a rapport with 'em. So after the Newport show, Lady Monster and the Dash boys headed down to the Library on North High to see Watershed do a personal performance for friends (Watershed toured with DRR a while back). Sounds like a blast!

WAY TOO MUCH ADVANCE NOTICE DEPARTMENT
Prolific local lofi-sters Moviola (they've released an album and at least four singles this past year!) seem to have been laying low the last few months. Recently, however, I've been informed that they have several shows scheduled for the near future: May 1 @ Bernie's w/ Poem Rocket, Tiara, & The Revelers; June 19 in Philadelphia @ Trocadero; June 20 in Baltimore @ Ottobar; and July 4 here in Columbus @ the BLD Warehouse for "Redneck, Whitetrash, & Boombox I" featuring Moviola, Thomas Jefferson Slave Apartments, Bonifay, Cheater Slicks, etc. Stay tuned for more details!

Welp, that's it for now! See ya next week!

- pat dull

DON "THE POPE" PAVELCIK UPDATE
Don is undergoing frequent energy draining chemotherapy treatments. We're still awaiting a complete diagnosis as to what type of thyroid cancer he has and how serious it is.

NEW RESIDENT
Cringe welcomed a new resident over the last weekend: The Northberg Tavern. Other residents include Bernie's Bagels/the Distillery/Burnt Sienna Records, Break-Up! Records, Pretty Mighty Mighty, the Hairy Patt Band, the Revelers and Cali Swain. Look for another resident or two to be added in the next month or so. (I'll let it be a surprise.)

- Joel



---



Tuesday, April 14, 1998

INDIE-POP PUNK MUSIC FESTIVAL DEPARTMENT
In a few weeks, the Northberg (Donato's downstairs at High and Frambes) will be hosting a self-described "indie-pop punk music festival" that will span two nights (April 24 & 25, 1998). Friday the 24th will be the "predominantly punk" night, with The White Outs, Midway, the Cusacks, and the League Bowlers. Saturday the 25th will be "predominantly pop" with Cali Swain, Silo the Huskie, Salthorse, & Superstar Rookie. Proceeds will go to Action for Children charities and will cost $4-$5 to get in each night. For more info or suggestions, email Dan Bandman at

[email protected]

, or call 486-1655. Dan is also considering a summer festival for indie and underground music in the Midwest, so give him a call!

EXPLODING DRUMMER DEPARTMENT
Everyone's favorite Columbus rock band, Watershed, has a new drummer; so new, in fact, that when I queried singer/guitarist Colin Gawel on the correct spelling of the band's latest addition, Colin's retort (after a short pause and laugh) was "I'll have to get back with ya on that one!" Well, baby got back, and now the new drummer's name can be revealed in all it's grammatical glory: Dave Masica. He played his debut with Watershed a few weeks back, and by all accounts it was a success. The band has been playing numerous regional gigs supporting it's latest release, Star Vehicle, and will be in the studio soon to record some new tracks, their first with Dave. Their next project? A four-song e.p. for local label Break-Up! Records!

RECORD RELEASE PARTY KONTROVERSY RESOLVED DEPARTMENT
As even the most casual music scenester knows, record release parties typically occur with nary a record in sight, having been meticulously planned months in advance only to have the actual record shipment fail to arrive by the scheduled date. In that regard, last week's Lowdown column reported a mysterious lack of dates for a record release party for Columbus' New Bomb Turks, a band with no small reputation for their raucous record release shows. With At Rope's End in stores for over a week, there was not so much as a whisper in the wind regarding a record release party. With the return of the Turks from a successful European tour last week, however, the mystery has been resolved: there simply aren't any dates scheduled! Seems that with the hustle and bustle of preparing for last month's European tour, there just wasn't enough time to nail a date down. There may be something resembling a record release show brewing in the near future, but the particulars need to be hammered out before they can be responsibly disclosed! Stay tune for further details!

Welp, that's it for now! See ya next week!

- pat dull

"THE POPE" UNDERGOES CANCER TREATMENT
Many of you may know Don "The Pope" Pavelcik as the ringmaster of the Circus of Cool and nearly every other poetry-meets-jazz show in the OSU area. He also lends a big hand to the beer booths and jazz tent at Comfest. Lady Monster tells us Don was admitted to the James Cancer Hospital last week. That he has started chemotherapy and rehabilitation already sounds like a good sign to me.

BEHIND THE SCENES OF CRINGE
The new hardcopy is in the hands of our layout department. We hope to release it at the end of April. No promises -- keep in mind our layout "department" is essentially one volunteer/student and a computer.

We're compiling our yearly Columbus/OSU area Festivals, Fairs and Outdoor Shows calendar. If you have any such information, get it to us anyway you can:

Cringe
133 W. 6th Ave.
Columbus OH 43201

(614) 421-7589
[email protected]
http://www.cringe.com/ss/submit.htm

- Joel



---



Tuesday, April 7, 1998

SHOCKING RADIO CHARTS KONTROVERSY DEPARTMENT
Ohio State University's cable-access radio station, KBUX, has sent out their play list charts for the week, and guess who has bumped Columbus' own New Bomb Turks off the top spot? Well, the Turks' seven-incher "Snap Decision" (on Sympathy) was hauled off to the scrap-heap of Number Twosville by Columbus' own Gaunt, with their Warner Bros. debut called Bricks and Blackouts. It wasn't too long ago that Gaunt played little brother to the Turks' elder statesmen status in the Columbus sibling rivalry game. Does this record-chart madness mark a subtle shift in the Columbus Punk Rock Power Infrastructure? Does anyone care? Only the imminent release of the Turks' At Rope's End will end this kinky kontroversy! (See below for more details)

UPCOMING SHOWS DEPARTMENT
Everyone's favorite Misfits tribute band, Devilock, is playing at the High Five tonight (Tuesday, April 7, 1998), along with Columbus' own Midway, relatively fresh from their touring jaunt across this great land of ours. Also on the bill, and of special note, are Useless ID from Israel. That's right, Israel. Brian from Midway sez Useless ID are "a kick ass band we played with in Dallas and New Orleans, and are touring in the states for 3 months." They could use a good turnout, so spread the word! Midway is playing first around 10 pm, then Useless ID, and then Devilock.

In the not-to-be-missed category, Dash Rip Rock is playing this Saturday at The Newport. These guys put on one heck of a live show, and their steamy brand of Louisiana-styled rock 'n' roll (kinda like Black Flag peppered with Tobasco) floors me every time I see 'em. Not sure how it will go over at a bigger venue like The Newport, as I'm used to seeing them at the more intimate Stache's (RIP) and Ludlow's. In keeping with the scandal theme, a few years ago Dash Rip Rock were threatened with legal action by the Tobasco corporate giant for using their image on T-shirts (humorously advertising "Dashbasco" brand hot sauce). So watch out, local bands: the estate of Audrey Hepburn is just itching to wrangle with someone foolhardy enough to appropriate her image to advertise gigs!!

RECORD RELEASE HYSTERIA/CONFUSION DEPARTMENT
Columbus dinosaurs, the New Bomb Turks, are all set to release their sophomore Epitaph effort, At Rope's End, this week. Tradition and etiquette tells us that a record release show can't be too far off on the horizon but, trouble is, no one seems to know when or where it is! Chad Van Wagner, Turks scholar and Datapanik Records dude, had this to say about the glaring omission: "Hmmm...nothing marked as such on the tour sheet Eric gave me, but the tour sheet is sketchy at best ... there's a blank date (April 30) as the first gig (indicating that the show's here? I dunno ...) and there're *two* spaces for gigs after a show in Cincinnati (March 3 and 4). An educated guess says it's one of those three ..." There you have it, scandal hounds!

Welp, that's it for now! See ya next week!

- pat dull



---