Previous Issue | Next Issue
If It's Too Loud,
You Can Still Hear


Intro | Notes & Letters | News & Rumors | Reviews | Misc. | Ads
Miscellaneous
Media, Resources, Services and Announcements

19 Cent Zine
~36 pages Letterhalf $2
1616 Glenn Ave. / Columbus, OH 43212 / (614) 731-9185
This is Dave Gelo's local scene zine. Now, these guys ain't no English majors (and neither am I). Usually this is fine, relaxing, friendly and home-y to read. However, every few sentences something seems to get left out or go out of whack. "Not" can be a very important word to have left out.
Sorry, I shouldn't be dwelling on that so ... 19¢ has some short few sentence reviews of bands and recordings, many done on just one listen. I kinda like that whole concept, though I'm not generally brave or versed or comfortable enough to do such one off reviews - at least not of bands I'm not familiar with. Though I may not always have an idea of what to expect of a band from the written reviews, I do have an idea of how much the reviewer liked it, "ehh-ed" it or hated it. That's not to say I don't get and idea of what to expect from the review as a whole, though ...
You see, Aaron Lowe uses a quick glance pictogram category rating system. It's pretty ingenious. He rates music in several sometimes changing categories: "Indie guy factor," "Musician factor," "Heavy shit factor," "Punk rock factor," "Sounds good on drugs factor" and "I like good music factor" for example. Each factor has a cute and simple line drawing pictogram representation with 4 pictograms in any one category being the maximum. I think it works much better than the one dimensional ratings systems we're so used to seeing. I believe in at least a two to three factor system myself.
I also noticed that Aaron Lowe doesn't seem to like the Econothugs (or at least their fans). It sounds like he was there on a Friday Night Fight Night, so I can't say as I blame him if that's the reason. I could do with a little less macho, drunken, violent, pointless point-proving patrons myself.
There are also a few more "in depth" half-page type reviews, stories, experiences, or philosophizing: why it took a writer so long to see or hear a band (The Haynes Boys) or if something's good driving music. They've got one on me there. I don't drive. 19¢ ventures away from the music a bit with the newly added Alien Page - UFO stories and such. I haven't read that part yet . And Dave's inside track at the Newport/PromoWest (ie. bigger alternative shows coming through town) acting as a runner, gopher and chauffeur makes for some interesting stories.
All in all, I really like the personality and philosophy behind 19¢, but sometimes the wording and grammar get in the way.
---
Hard Times


[email protected]

/ http://www.hardmedia.com/
Regional music magazine (8.5" x 11")
Well, this is just a quick review of a relatively new (at least to me/Columbus) regional music zine. Earlier issues laid claims to serving Louisville, Lexington. Cincinnati and Columbus. More recent issues seem to be aiming at wider territory. There are a lot of indie/local/alternative reviews - sectioned off by the author rather than style or group name - making it easier to get an idea of what an individual critic's taste might be. And seeing as how I believe the ideal critique should give ya an idea of whether you'd like something or not, having a strong handle on a critic's taste (compared to your own) could be very useful - even if the critique is in complete polar opposition to your own opinion. (Gee, I guess that became more of a diatribe on "How to Use Critiques" ... sorry.) Aside from music reviews, there are Letters and some regular columns dealing with social and cultural issues that generally tie into the music that is the overall focus of Hard Times.

So far I like Hard Times and am impressed. The writing can be a bit opinionated, high brow and educated, but I really need to read a few more issues a bit more thoroughly. One thing I did notice is that there seems to be the same complaints and problems in other cities as we have here: The Next Seattle Syndrome, the "it's who ya know and who your friends are" Syndrome and the "let's degrade our city, scene or selves because of these syndromes" Syndrome. Ok, I'm guilty, too ... unless you actually consider Cringe a serious and positive description?! But truthfully, with all this negativity floating around, why do we all still seem to support, write and focus on it so much? I think one of the Hard Times articles kinda hit on it: "... instead of the guy in the top hat we have whining, mealy-mouthed rock stars who are rolling in money and yet can't stop bitching. Being a defeatist sells records ... Rock īn' Roll is dead because it's about begging for love and whining when someone tries to love you ..." Defeatist. Hard Times indeed! (I was gonna go off ... on big tangent here. Maybe it will appear in a preamble/prebabble.)

- Joel
---
Kathode Ray Music
http://www.kathoderay.com/
Non-Profit Online-Based Music Promotion
Kathode Ray has picked up shop and moved from Boston (right?) to Columbus. What is Kathode Ray? It's a non-profit online-based organization aimed at promoting alternative/DIY/Indie bands and music. Their biggest functions are inexpensive CD compilations and radio distribution/promotion (largely through their CD's). It often functions like a commune such that CD recording and production tasks are donated through participating bands. In the end, it may cost a band nothing but a little time and work to get a song on a CD. And they're not tied to any label or copyright deals.

Eventually I'll review Kathode Ray's recent CD, Money Talks ... and Sex Sells, with bands from around the world and styles in almost everything that might be dubbed indie, alternative or DIY. Until then, I wanted to point people to this new resource.

- Joel
---
Kathode Ray Music
http://www.kathoderay.com/
October 11, 1996
We all know it's a bitch to move your product if it's only available on consignment at your local Mom and Pop store. It's hard enough for indie bands to survive without having to worry about endless consignment deals that never seem to work out. That's why Kathode Ray has started a direct mail/internet service where your fans will be able to get your music mailed directly to their door simply by calling an 800 number and using their major credit card. We'll take care of the advertising ... you take care of making music.

Real Audio samples and graphics will be linked provided that they are housed on your server. You'll get a check from us every quarter for the amount of merchandise we've sold. Now is your chance to get on this from a ground breaking level!

We're looking for CD's, cassettes, lo-fi releases, mix-tapes, shirts, and anything else your band has to sell. The catch? We take 30% to cover the phone line, credit card merchant fees, and books. Also-- we believe in keeping music at a reasonable price and WILL NOT sell anything for over $10! We're looking to get your music out into the hands of the people that want it and get you a little more recognition, not make you a millionaire.

Stop by the web site at http://www.kathoderay.org/ for more details or email [email protected] with your questions. What do you have to lose?

NEED PUBLISHING? Visit Kathode Ray Music at http://kathoderay.org/ today!
---
Music-NET 2000
http://www.musicnet2000.com/
October 4, 1996
Just a quick note to introduce our Internet service to you. We are Music-NET 2000, "Your Key To Music On The Internet". We're located in the heart of downtown Evansville, Indiana and are getting noticed by many supporters of music throughout the world. We would encourage you to visit our website, located at http://www.musicnet2000.com/. Stop by and see what we're really about!

To save you a little time, I'll go ahead and give you the "meat & potatoes" of what we are: We're a music-mall, consisting of a record label, a 24-track digital recording studio, a media production house, and a booking agency. We have the capability to do just about everything under ONE roof!

... If you know of anyone who would be interested in what we're doing, please send us their e-mail address under the subject "referral", and we'll appreciate it greatly!

Have a terrific weekend, and thank you for your time ...

Sincerely,

Steven Himes
Internet Resources Director,
Music-NET 2000 - "Your Key To Music On The Internet"
520 Main Street
Evansville, IN 47708
Ph: 812.424.8744
FAX: 812.424.8734
www.musicnet2000.com

(The day after I received the above message, I got a follow up from the "new webguy" apologizing for the "spamming" the message by the "old webguy." In case ya don't know, spamming is loosely defined as undesired, unrequested, inappropriate or overzealous mass e-mailings and online newsgroup postings - kinda like junk mail on the internet. - Ed.)
---
NAMUTO
http://members.aol.com/yostie/NAMUTO.html
September 3, 1996
"... covering the Columbus indie/DIY scene for NAMUTO PRESS"

We would be interested in any acts that you feel strongly do exceedingly well at their craft from the Columbus area, detailed information on any club that promotes independent music (any style), Indie friendly record/tape/CD stores, and events that would be of interest to the independent community nationally and internationally - this does not mean they must be "Monster Events," but perhaps curious and interesting.

Our first issue should be out late this week or early next week; we've run a tad late.

Of course, anything that you feel would be of interest, we are open to ... perhaps an overall view of the indie/DIY scene in Columbus?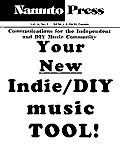 Hope to hear from you for our November Issue.
Thanks.
Jeff Yost
NAMUTO / WOMUTO
1910 Riverbend Pkwy.
Fremont, Ohio 43420 USA
Fax: 419-334-4770
vox: 419-332-5667
e-mail: [email protected]
URL (info only): http://members.aol.com/yostie/NAMUTO.html
---
Project 9
http://www.apcg.demon.co.uk/
September 23, 1996
For full information and before submitting anything, send a reply to this message to receive a full response from the Project 9 Info Responder

Project 9 is a new WebSite dedicated to giving bands and musicians (and those connected with them) with no promotional facilities *some* promotional facilities!

Since its inception on September 1st 1996, Project 9 has four excellent bands already "on its books." Check out this list of features which destine Project 9 to become a leader in providing easily-affordable quality music-related services to the Internet community:

Existing features present at Project 9's inception on 1-Sept-96:
Internet Wave audio streams of ALL songs submitted by Artists in their COMPLETE form.
Your own pages within Project 9 which contain as much selected information as you provide including reviews, Bio's, demo covers, photos, gig guides and contact info.
Graphics & printing service to convert your logos into PostScript, separations and virtually ALL popular graphics formats.
Links and URL info provided so you can link the audio to your own homepages for your own visitors to enjoy.
Regular postings to Newsgroups and Music-related areas of the Net about YOU, Project 9 and all new arrivals to the site.
New features implemented since 1-Sept-96:
MPEG audio streams in addition to the Internet Wave streams - perfect for Microsoft explorer users
Two individual counters for artists' pages so you can see how many times your audio pages have been accessed and how many people have looked at any part of your information.
Promotional Banners. These are currently in the Beta-Test stage and are FREE for all artists and related organisations to use until they go online "proper." The current version of the banner software allows for up to 600 banners to reside on Project 9 with a MINIMUM visibility of once every 10 minutes.
New features to be implemented as soon as coded (time scale from 1 week to 8 weeks approx.):
Random audio so that someone will listen to your music without you worrying about them seeking you out.
Bulk Emailing service for Artists and Organisations with the option to obtain copies of the Email database for frequent users. This is expected to be THE cheapest "non-free" Email service on the Net, specially tailored for those within the music business.
Venues section
Artist Management section
Artist Promotion section
These fantastic new features and enhanced existing services will combine to make Project 9 a 'cool site' in the very near future and the only charge is a ONE OFF payment of L10 Sterling to cover upload costs and processing time for the graphics and audio. You never need to pay anything else unless you decide to use an extended service; bulk Email, graphics, mail database and banners (following successful Beta Testing) constitute extended services.

Existing extended services (and it is anticipated that future extended services) all cost the same L10 per use with the exception of the Email database, LPOA.

- [email protected] / http://www.apcg.demon.co.uk/
---
Robbins Entertainment
Independent Record Label
My name is Meredith and I do A&R for a new independent record label in NYC called Robbins Entertainment. We have worldwide distribution with BMG. I am always on the lookout for cool bands (on a sadly low travel budget) so if you are into any great local stuff, I'd love to hear about it. You can contact me, or have bands contact me directly. My info:

Meredith Fisher
Robbins Entertainment
30 West 21st St - 11th Floor
New York, NY 10010
212-675-4321

Hope to hear from you.
Take care.
Peaceout,

- Meredith / [email protected]
---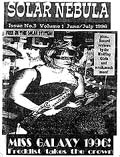 Solar Nebula
local zine (8.5" x 11")
Name:
Solar Nebula

Age:
Issue No. 3 Volume 1 June/July 1996

Home planet:
Venus

Height:
8.5 inches x 11 inches

Weight:
Oh, a few ounces

Symbol:
An 18 wheeler mudflap

Eye color:
Black & white

Favorite color:
Stained Skin/Off

Favorite T.V. show:
All 50s & 60s Sci-fi/space shows

Favorite movies:
Valley Girl/Rock 'n' Roll High School

Favorite food:
Raw cow tongue in cheek

Last book read:
The Complete Works of Freddist

Last book written:
Solar Nebula - The Novel

Last raped orifice:
The upper hole of the bottom staple - from the backside

Favorite celebrity:
Miss Galaxy, Mudflap Girls from Venus, Underworn, Lazy, and Ozzy

When I get Mad:
I get Spy, too.

Dream of goal:
To entertain the Universe and beyond ... and colonization of Earth.

Philosophy of life:
Freddist

Accomplishments:
Astral travel

What shames me:
Some of those comic strips

On dates I like to:
Glitter and glow

Quote:
"Venus ... Ya been there?"

- Ann Earthling
---
St. John's University
July 25, 1996
My name is Jesse Stremcha. I attend St.John's University in Collegeville, MN. I recently took it upon myself to put on a concert series for the student union. I did so realizing that SJU was one of the most musically ignorant and narrow minded schools in the state. My hope was to help broad the musical tastes and interests of the student body. I would also like to gain some knowledge myself. I have enlisted the help of some friends who are both very interested in ska and punk and the various mixing thereof. I also enjoy this music, but I would like to bring some variety to the series. If you could suggest and/or put me in touch with some good bands, that would be great. Also, if there is anyone else you know of who can help me find bands please let me know. If there is any reciprocal service I can provide please let me know. My email address is

[email protected]

.

Thanx.

- Jesse